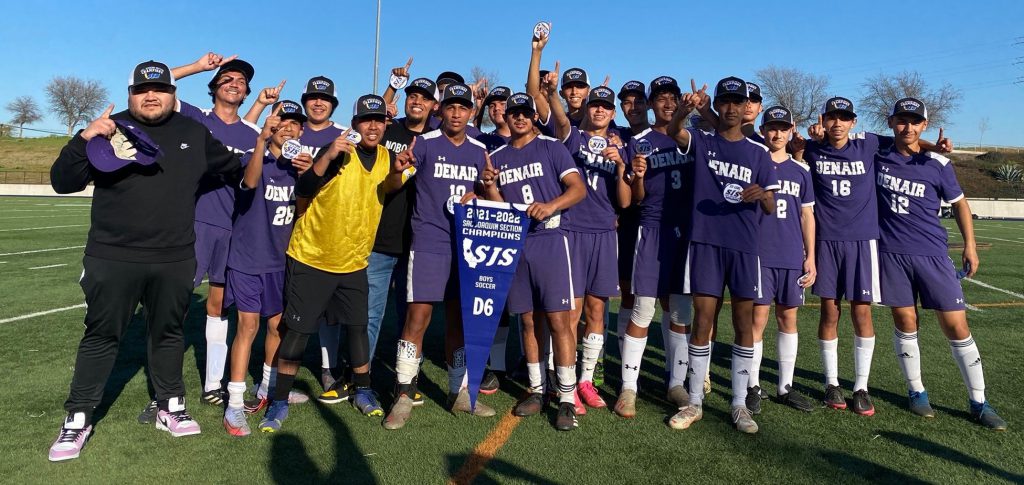 The Denair High boys soccer team lost its first game of the season … and hasn't been beaten since. That undefeated streak culminated Saturday afternoon in the school's first-ever Sac-Joaquin Section Division VI championship as the Coyotes shut out Southern League rival Gustine 3-0.

The magnitude of the achievement still hadn't set in two days later for Denair coach Miguel Hernandez.

"I woke up yesterday and it was still surreal," Hernandez admitted Monday morning. "I was texting with some of our juniors and seniors, and it was just amazing to know what we accomplished together."

Denair (16-1-5) isn't done yet. The Coyotes, who were seeded first in the eight-team Section bracket, now will move on to the NorCal Tournament beginning March 1. Pairings will be announced Sunday and Hernandez expects Denair to earn at least one more home game.

Until then, the Coyotes can be satisfied knowing they earned the right to hang a blue Section championship banner in their gymnasium, something no other Denair soccer team has ever done.

The title game was the third meeting of the season between Denair and Gustine. They tied 1-1 on Jan. 29 in Gustine and Denair won 2-0 at home Feb. 4. This time, they played on a perfect day for soccer at American River College in Sacramento.

As it has done it all three of its playoff victories, Denair scored first. Sophomore forward Azael Gil found the net on a header about 15 minutes. Gil, who didn't start at the beginning of the season, has made the most of his chances since being inserted into the lineup about a month ago.

"He's really impressed me," Hernandez said.

About 10 minutes later, Denair went ahead 2-0 when another sophomore, Justin Hernandez, dribbled past a defender and then beat Gustine's goalie with a low, hard kick to the goalie's right.

Even with a two-goal lead at halftime, Hernandez told his team it couldn't relax.

"A 2-0 lead is the most false score in soccer, just because the momentum shifts if the other team scores," Hernandez said. "And soccer is all about momentum."


He warned his players that Gustine would start the second half aggressively.

"I told them at halftime, they were going to come out and try to get a goal to put them one goal away," Hernandez said. "And they did. They were throwing punches, They had us pinned back in our territory."

But Denair's defense – the backbone of the team all season — weathered the storm while Coyotes goalie Sergio Torres made some nice saves. "He did an amazing job," Hernandez praised.

Gustine did find the net once, but the goal was waved off because the Reds were ruled to be offside. That was a pivotal moment – depriving Gustine of the momentum Hernandez was worried about and seeming to inspire Denair once again.

The Coyotes put the game away about midway through the second half when Tim Hernandez scored on a header after a corner kick. That gave Denair an insurmountable 3-0 lead, which Gustine's players appeared to know.

"They started fouling more," Hernandez said. "They weren't playing soccer. They were frustrated and pushed. They knew that scoring three goals in 20 minutes wasn't going to happen."

The shutout was the 10th of the season for Denair, which allowed more than one goal only once this year – in a season-opening 2-0 loss to Hughson on Nov. 19. In fact, Denair's defense has surrendered just 12 goals this season, not counting the three scored in a 5-3 shootout victory over Summerville in the Division VI semifinals (the teams were tied 1-1 after regulation and overtime).

Hernandez said the Coyotes began truly to believe in themselves after two 1-1 ties in SL play against Delhi – which won the Section Division V championship Saturday and could be a NorCal opponent – and a lopsided road win over Le Grand on Jan. 7.

"It was the Delhi games and Le Grand, which was a good team and we beat them 5-0," he said. "I could see every single player who went in was locked into their role and duty. And when we beat Gustine in the second game — I told them, 'If we play like this, nobody can beat us but ourselves.' "

As the victories stacked up, Hernandez said Denair's team goals also evolved.

"We always talked about our main goal, which was to win our league," he said. "About halfway through the season, that changed to winning a playoff game. Then we started talking about winning the Section."

A blue banner may have seemed like a fantasy three years ago when Hernandez took over and Denair was coming off a winless season. That all changed Saturday afternoon.

"The guys were so happy," said Hernandez, who plans to step down after this season ends so he can coach his 7-year-old daughter's traveling team. "The emotions came out. Especially for the seniors, who never thought they'd get this far after not winning a game as freshmen."