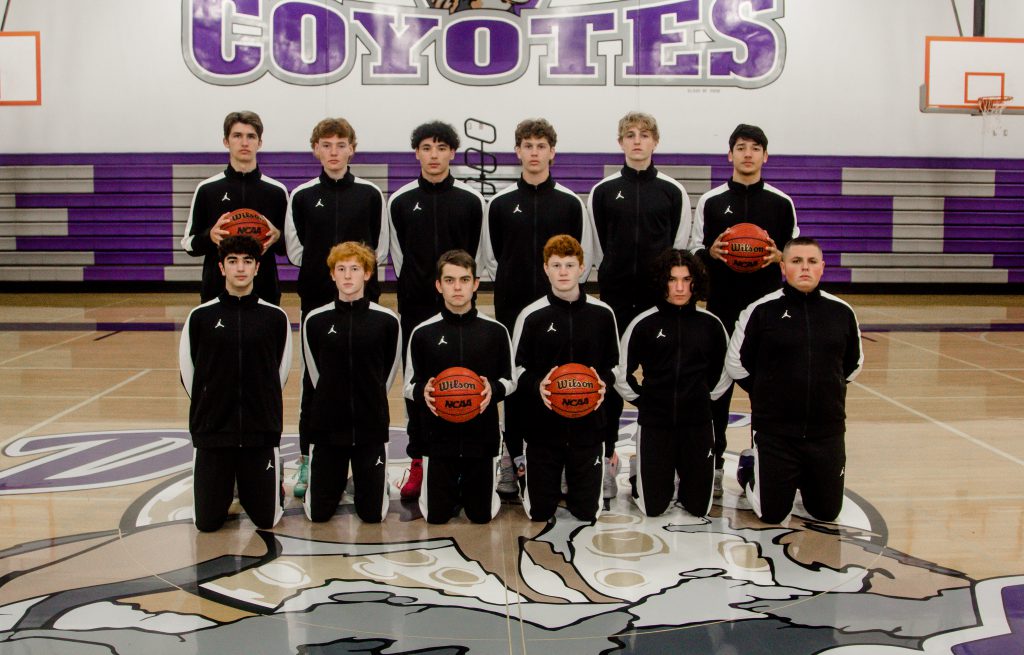 For much of Monday night's Sac-Joaquin Section Division V playoff game, Denair looked less like a No. 1 seed and more like a squad that hadn't been challenged in nearly two months.

Eighth-seeded Aspire Langston Hughes Academy of Stockton made the Coyotes work harder than they have since early January. Aspire's stingy zone defense kept Denair's outside shooters from their preferred spots, frustrating the Coyotes, who surprisingly found themselves trailing by five points late in the third quarter and still tied at 45-45 with 4½ minutes to play.

With the game on the line, Denair's experience kicked in. Senior Connor Leonard scored six points and the Coyotes were clutch at the free throw line, propelling them to a hard-earned 57-49 victory over the Titans in the second round.

The victory sets up a semifinal rematch at home Wednesday at 7 p.m. with No. 4 Mariposa (22-5), who shared the Southern League title with the Coyotes (24-4) this season. Mariposa edged Bret Harte 50-47 on Monday night.

"I'm absolutely glad it's over," Denair coach R.J. Henderson said of Monday's game. "It was our first close game in six weeks. There were some nerves out there from our guys. It was a combination of that and that they (Aspire) played well. We're relieved to get through."

Denair cruised through the Southern League season, losing only 55-52 at home to Mariposa on Jan. 3 and blowing out everyone else. The Coyotes avenged their one loss with a dominant 69-46 victory at Mariposa on Feb. 14, which earned them not only a No. 1 seed but a first-round bye.

Though Denair has won 20 of its last 22 games, Aspire was intimidated. The Titans relied on a ball-hawking 2-3 zone to slow Denair's typically efficient offense while controlling the pace and keeping the score close throughout.

"We've faced zones before, but not many that were that active," Henderson said. "Their guards at the top did a good job of firing at our shooters and their bigs at the bottom rebounded well. They were very physical against us."

Henderson credited senior reserve Joseph Gregg with helping to steady the Coyotes during some key minutes in both halves.

"He had his best game as a varsity player – three or four steals and a couple of points," Henderson praised. "He's a quick, disrupting player on defense. This was a perfect matchup for him. He kept our team where we needed to be."

In the end, it was Denair's "core four" – seniors Cooper Feldman (15 points), Jack Henderson (14 points), Mario Plasencia (12 points and 10 rebounds despite foul trouble) and Leonard – who came through again. Those four players – who all played as sophomores on Denair's NorCal playoff team two years ago — raised their record to 61-9 over the past four seasons.

"We finally strung a few stops together on defense and then we made our free throws," Henderson said.

Next up is a team Denair knows well – Mariposa.

"They kind of mirror us. They have a couple of dynamic players," Henderson said. "There's not a weak link on that team. … Both sides respect each, play very hard and like to compete against each other."

The winner Wednesday night will move on to the Division V championship game Saturday at noon at Golden One Arena in Sacramento.

Wednesday's other semifinal will be played in Ripon where No. 2 Ripon Christian (20-7) will host No. 11 Bradshaw Christian (11-18) of Sacramento.

Denair has beaten all three of the other semifinalists this season, underscoring why it earned the playoff top seed. Henderson also is proud of the fact that the Southern League – which doesn't always get a lot of respect at the Section level – has two of the last four teams remaining.

"It's nice seeing two Southern League teams not just seeded first and fourth, but to know that one of us is going to play in the finals in Sacramento," he said.

Denair already is assured of a spot in the NorCal Tournament, which starts next week. Two years ago, the Coyotes lost on the road in the first round. With two more victories and a Section title this week, there is a good chance they could host a NorCal game next week.

"We're confident, but we've still got a lot of work ahead to get to Golden One and validate our No. 1 seed," Henderson said. "We're looking forward to it."