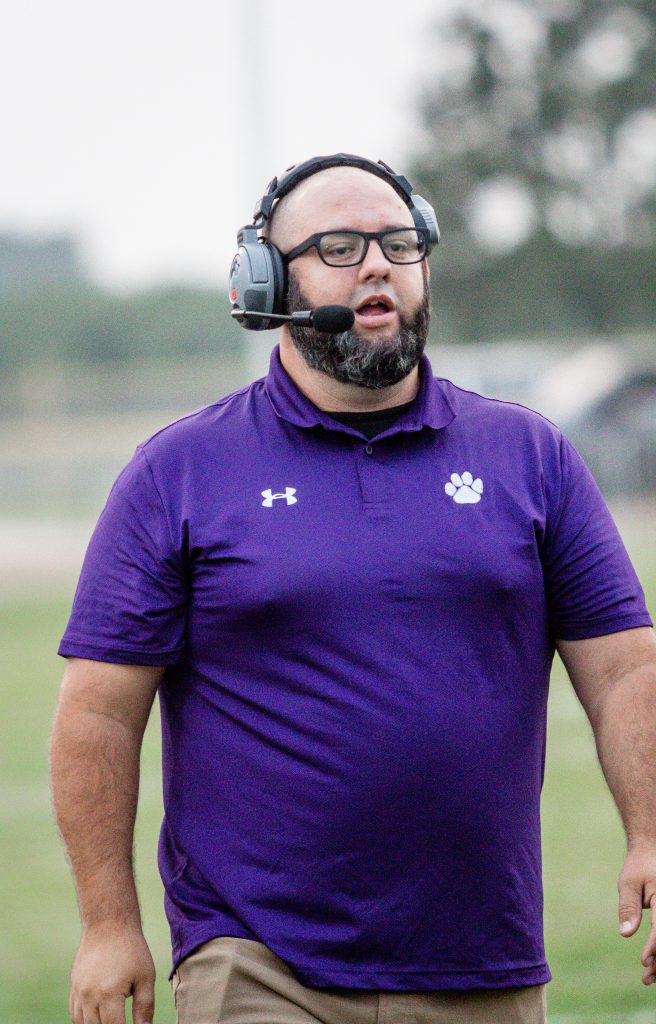 As has been the case during most of his eight years as Denair's football coach, it's a numbers game for Anthony Armas. Rarely has he had more than 25 players on the roster, even during the magical 2018-19  season when the Coyotes shocked everyone by going 12-1 and winning the state Division VII championship.
Heading into Friday's season opener against Modesto Christian, Armas counts 17 players on this year's team. Given that football requires 11 players on both sides of the ball, that means Denair can't even conduct a full 11-on-11 practice. Instead, the Coyotes rely on drills and individualized coaching.
"They get lots of reps because of the numbers," Armas said of his players. "It's kind of the hand we've been dealt. We've been there before."
Armas certainly would like to have more players, but he doesn't stress on it. This year's squad features seven seniors, five juniors and five sophomores. He often tries to convince his players to recruit their friends to join the team.
"Other than that, there is no recipe," he said. "It's not just winning. Sometimes, it's where their friends are."
Last year's team finished 2-4 in the Southern League and 2-6 overall, missing out on a couple of games because of COVID quarantine rules. The pandemic also forced Denair to consolidate the varsity and JV teams last fall.
"It hurt our development not having a JV team," Armas admitted. "We do have a couple of transfers, plus a couple of kids who should be eligible after grades come out (for the first quarter), so our numbers should improve a little."
Until then, the Coyotes will persevere with what they have. Armas describes his players as "resilient" and "close." The Coyotes have had many chances to bond through off-season workouts, weight training, scrimmages against other schools and an annual trip in late June to one of their coach's favorite places – Disneyland.
"They're hard workers. They spend a lot of time together," Armas said. "It's a good team atmosphere."
Armas expects five experienced players to lead Denair this fall. Three of them are seniors – lineman Chris Hernandez, fullback and linebacker Isaac Villa Martinez and running back and linebacker Anthony Pineda. The other two are juniors — quarterback and free safety Landen Borges and offensive lineman and linebacker Jordan Rubio.
Armas also has his eye on two newcomers – junior running back and defensive back Emanuel Renteria, who played soccer last year, and sophomore running back and linebacker Jayden Hensley. Both will help Denair executive its traditional Wing-T offense, which relies on misdirection and speed to be effective.
What are Armas' expectations when the Coyotes kick off Friday night on the road against Modesto Christian (1-0)?
"I want to see them go out and execute," he said. "Play fast and aggressive. Don't be afraid to make mistakes. Not be afraid to let go. Know your assignments. If we go out and do what we do and they're better than us, fine. If we make mistakes, that's not good."
The remaining preseason schedule includes a home game Sept. 2 against Riverbank and an intriguing away game on Sept. 10 at George Washington High School in San Francisco – a team Armas has tried to schedule twice before.
"They were double-booked (with games) in 2019 and last year we got quarantined," he said. "Their field is one of the coolest places in the country to play high school football. The backdrop is the Golden Gate Bridge. I'm looking forward to it. We're always trying to do something special with the kids and get them out of the area for games."
On Sept. 16, the Southern League schedule begins with an away game at Ripon Christian. That's followed by home games against Gustine (Sept. 23), Le Grand (Sept. 30) and Mariposa (Oct. 7), then at Delhi (Oct. 14), home vs. Orestimba (Oct. 21) and the regular-season finale at home against Waterford (Oct. 28).