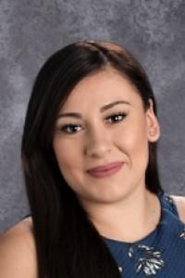 This is one in a series of Q&A's with teachers new to Denair Unified in 2022-23.
Family: Husband, Luis, and our daughter, Zoe
School: Denair Elementary Charter Academy
Subject taught: Transitional kindergarten
Education and experience: I received my bachelor's degree from CSU Stanislaus. I am currently enrolled at Humphreys University; I am working on my credentials and master's degree. At DECA, I have been a long-term substitute teacher in kindergarten and fourth-grade dual immersion as well as a bilingual paraeducator in the language lab.
What attracted you to Denair? I love the Denair community and small-town feel. I attended school in Denair K-12 and have worked for the district since 2013 as a bilingual paraeducator. Denair is simply home.
What most inspires you about teaching? I know it sounds cliché, but my students inspire me the most. I love the "ah-ha" moments that students have when they master a new skill or a new task. It motivates me to try my best for them.
What is a challenge you look forward to tackling this year? I am looking forward to the challenge of transitioning from paraeducator to homeroom teacher. I have experience working with students in grades TK-5, yet there is a lot left to learn.
What is your favorite teaching tool or activity? I love to use GLAD strategies because I can incorporate all learning styles in my lessons.
What do you want your students to remember? I want my students to remember that I care about them. I will always foster a positive and safe learning environment.
How can parents support what you do? I believe that it is important for parents and teachers to work together. Parents can support their children by encouraging active learning at home, making sure they arrive at school on time and keeping open lines of communication.
What would surprise people about your job? I think that people would be surprised by the amount of time that it takes to prepare for one school day. It is a lot of work, but I wouldn't have it any other way.
What do you do for fun?  My family and I enjoy traveling. We take a big trip every summer. I also enjoy taking dance classes and reading.