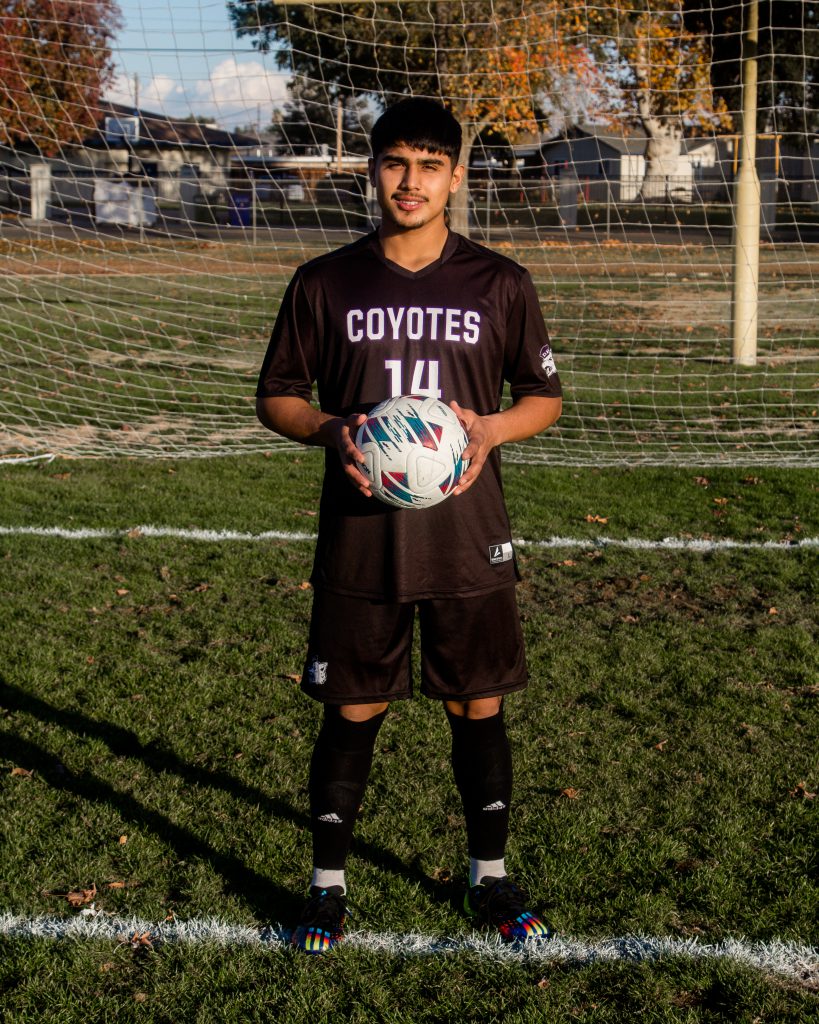 At its best this season, the Denair boys soccer team looks every bit as tough and talented as last year's squad, which tied for the Southern League title and won a Sac-Joaquin Section Division VI championship before losing in the first round of the NorCal playoffs.
The Coyotes' teamwide ability was on full display Tuesday, when they crushed Ripon Christian 6-0 behind three goals from Angel Sanchez, two from Justin Hernandez and one from Diego Padilla.
The victory lifted Denair into first place in the ultra-tight Southern League, where five schools have only lost a single game nearing the halfway point of the rain-delayed league schedule. The Coyotes (4-1) are in the lead, followed by Orestimba (3-1), Gustine (3-1-1), Waterford (1-1) and Delhi (1-1-1).
Denair's only league loss was 3-2 to Orestimba on Dec. 13. The two schools meet again Jan. 30 in Denair in what could be a showdown for the league title.
Overall, it has been an up-and-down season for the Coyotes and first-year coach Antonio Padilla. Denair's record sits at 7-8-3, but that's misleading. Four of the losses, unfortunately, came as forfeits because the Coyotes unknowingly used an ineligible player. On the field, they actually won three of those matches and tied the other.
"It's over. It happened. That's life and you learn," said Padilla.
Sanchez, a senior, has been the spark on offense all season. He leads the team with 28 goals and six assists, ranking him among the top point producers in the entire Section. He was one of the best players on last year's team as a midfielder when he had 12 goals, but has blossomed as a scorer this year with a move to striker.
"He's a good influence on the other players," praised Padilla.
The coach's sons – Diego, a junior, and Goliath, a freshman – are the next-leading scorers with six goals each. They're followed by Emanuel Renteria and Justin Hernandez, who both have scored five times, and Tim Hernandez and Octavio Valla with four goals apiece.
The Coyotes' offense has been prolific, averaging more than four goals a game. That statistic is slightly misleading because 48 of the team's 65 goals have come in five lopsided shutouts — 17-0 over Big Valley Christian, 7-0 over Hilmar, 9-0 and 7-0 over LeGrand, and 8-0 over Ripon Christian.
Padilla – an experienced coach whose background is with recreational, traveling and indoor teams – said his advice to his players is simple.
"I want them to play hard and enjoy the game," he said. "That's my philosophy. … Brains over power, that's what I encourage."
With the wet weather throwing a wrench into the league schedule, Padilla is doing his best to make sure his players aren't worn out. For instance, because Denair plays three times this week – at Ripon Christian on Tuesday, home against Waterford on Friday and at Delhi on Saturday – the coach started mostly backups against RC.
"Those guys have been practicing hard and deserve a chance to play, too," he explained. "They played in the first half. It was 0-0 and then our other players came in for the second half."
Padilla will continue to monitor playing time the rest of the regular season in an effort to avoid fatigue and injuries. He recognizes that Denair – because of its success last year – will continue to have a target on its back against almost every opponent.
"I told our players early on that maybe we have a little pressure, but it's a new year and you have to enjoy every game," Padilla said. "Every day is a new day. They played very well last year and we're trying to do it again."