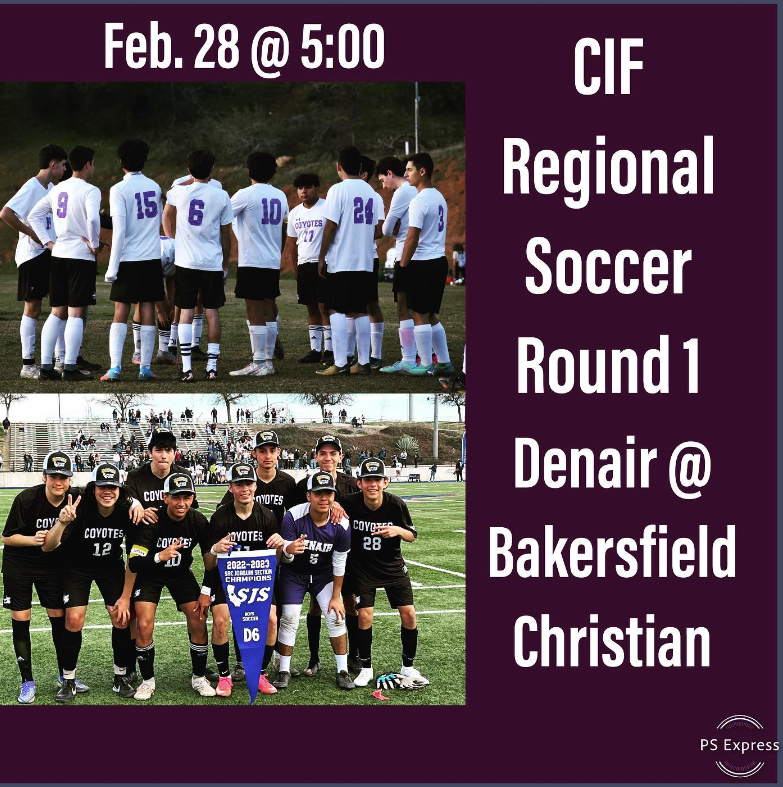 Denair has won back-to-back Sac-Joaquin Section Division VI boys soccer championships, but that didn't earn the Coyotes much respect when the NorCal playoff pairings were released over the weekend.
Despite its 16-10-4 record, Denair was seeded only seventh in the eight-team Division V NorCal bracket. That means the Coyotes will be on the road Tuesday against a team, Bakersfield Christian (12-13-3) that not only has a losing record overall, but was rewarded with a No. 2 seed and a first-round home game.
"We're trying to figure it out how they rank teams. How do they make those decisions?" wondered first-year Denair coach Antonio Padilla. "It is what it is, though. We have to be positive and play the game."
Bakersfield Christian won the Central Section Division VI championship Friday with a 3-2 win over Yosemite of Oakhurst. The Eagles have been good at home this season, winning seven of their nine matches, but have won only five of 19 matches on an opponent's field or at a neutral site.
Padilla planned to watch video of Bakersfield Christian with his players on Monday afternoon. The Eagles have scored 31 goals while allowing 51 on the season. That pales in comparison to Denair, which has racked up 116 goals. The Coyotes' star player, Angel Sanchez, ranks fifth in the nation with 48 goals all by himself. He also has 15 assists, giving him 111 total points (also fifth-best in the country).
"They must have been playing a lot of good teams this year is all I can think," Padilla said of Bakersfield Christian. "They're the second seed for a reason, I guess. We just have to be positive."
The Coyotes haven't played since their 2-0 victory over Esparto in the Section finals on Feb. 18. The rain prevented Denair from practicing outdoors for a few days last week and the indoor gyms at the high school and middle school were unavailable. The players are well rested, but Padilla worries about the combination of a long layoff and a three-hour bus ride on Tuesday.
"Hopefully, my players get plenty of rest tonight," he said. "Sometimes, it takes a little bit of time to get into the game when you haven't played, but I think my players are ready."
Tuesday's match starts at 5 p.m. in Bakersfield. The winner will play Thursday against the winner of No. 3 Gridley (12-6-2) vs. No. 6 Venture Academy (23-1-1) of Stockton. The top seed in Division V is Leadership (12-3) of Hayward.