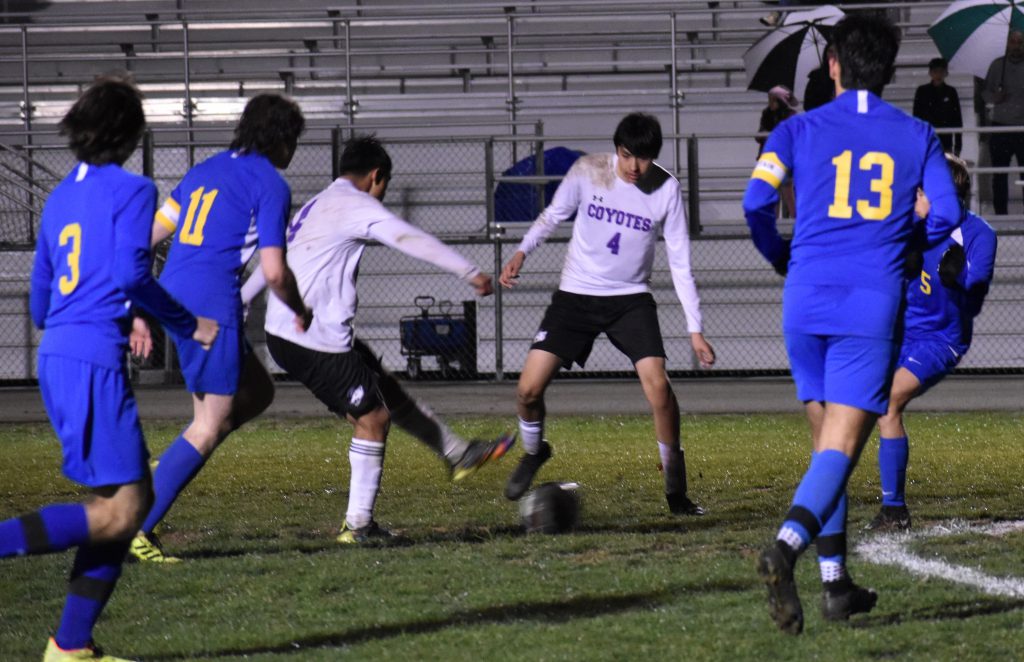 Angel Sanchez and the explosive offense grabs a lot of attention for the Denair boys soccer team, and rightly so. Sanchez's 49 goals are among the top individual performances in the entire country and a big reason Denair has scored 116 times this season.
All that offense often overshadows and equally important part of the Coyotes' success – their defense, which dominated again Tuesday in Denair's impressive and rain-soaked 5-0 road victory over Bakersfield Christian in the first round of the NorCal Division V playoffs.
The victory vaults No. 7 seed Denair (17-10-4) into the semifinals Thursday against No. 3 Gridley (13-6-2), which defeated Venture Academy of Stockton 2-0 on Tuesday.
The game against Bakersfield Christian (12-14-3) was the 13th time in 31 matches this season and third in a row that Denair has held an opponent scoreless. In many cases, the Coyotes' suffocating defense prevents other teams from even getting close enough to try a shot. That happened again against the Eagles, with goalie Sergio Torres only called on to make two saves because the defenders in front of him – Manuel Renteria, Johnny Tehandon and Nico Zavala – formed a wall Bakersfield Christian couldn't penetrate.
"Our defenders all played very well," praised Denair coach Antonio Padilla.
The Coyotes' offense, meanwhile, kept the pressure on Bakersfield Christian throughout the match, which was played in a steady rain.
Denair scored first about 10 minutes into the game when Goliath Padilla squeezed a left-footed kick into the corner of the net.
"I think it was a shock for the other team," said Antonio Padilla of his son's goal.
Less than a minute later, Sanchez – playing despite suffering from a cold and a sore ankle – beat three defenders to score on a cross from the right side.
"It was a beautiful goal," Padilla said.
Denair kept the pressure on, successfully maintaining possession of the ball while frustrating the Eagles' offense.
"I told our boys that if we control the middle of the field, we control the game," said Padilla. "That's what we did."
The Coyotes struck again at the end of the first half when Tim Hernandez scored off a corner kick. Ahead 3-0 at halftime, Padilla gathered his team under a canopy to avoid the rain and talk about their second-half strategy.
"I told them to keep playing hard," he said. "I said, 'We won first half. Congratulations for that, but we still have 40 minutes more. Have fun and play hard.' "
Denair never was threatened in the second half. The Coyotes scored on another corner kick when Diego Padilla found the net early in the second half, then added a final goal by Jose Valle Villa late in the game.
Bakersfield Christian – which was physical the entire night – let its frustration show in the second half, earning three yellow cards for rough play.
So now Denair – the two-time Sac-Joaquin Section Division VI champions – moves on to face Gridley, the winner of the Northern Section. It means another long bus ride Thursday for the Coyotes, who didn't get to bed until after midnight Tuesday after the three-hour trip home from Bakersfield.
"It was a long drive, but worth it," said Padilla, who planned to meet with his team Wednesday to review any video he could find of Gridley.
His said his players may do some light stretching, but otherwise he wanted them to stay off their feet as much as possible.
"Rest and sleep. That's the most important thing for us," he said.
While Denair and Gridley will square off in one Division V semifinal match Thursday at 3 p.m., the other semifinal features No. 1 Leadership (13-3) of Hayward against No. 5 Marshall (12-3-3) of San Francisco. Leadership shut out Williams 5-0 while Marshall edged Winters 2-1 on Tuesday.
The Northern California finals are scheduled Saturday at 5 p.m.