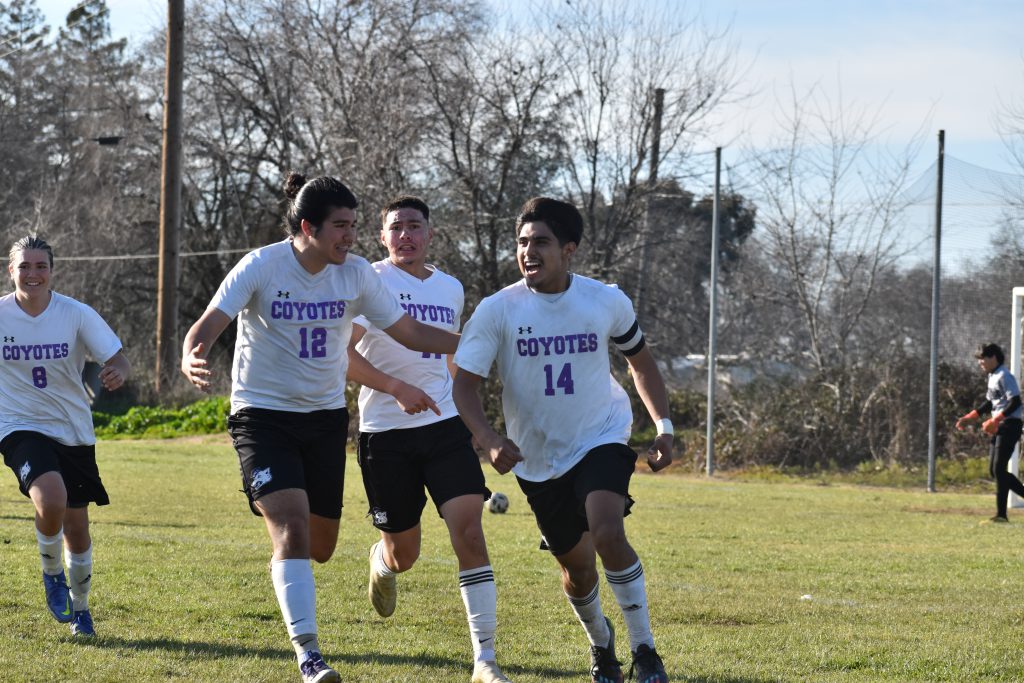 A magical season ended in frustrating fashion Thursday afternoon for the Denair High boys soccer team, who went to extra time before falling to Gridley in a shootout in the NorCal Division V semifinals.
The game was tied 2-2 at the end of regulation play thanks to two goals by Denair's Angel Sanchez, one in each half. Both of Gridley's goals came after free kicks that were awarded after one of the numerous fouls called on Denair players.
Neither side scored in the 15 minutes of overtime, though Denair got three shots on goal.
In a shootout, each team alternates five shots with players going one-on-one against the opposing goalie.
As the visiting team, Denair went first and Manny Renteria quickly found the net for the Coyotes.
Gridley scored to tie it 1-1 and then Denair's Tim Hernandez unluckily hit the crossbar with his shot.
Gridley's next shooter was successful for a 2-1 lead before Denair's Goliath Padilla was stopped on his kick.
Gridley kept the pressure on with another successful shot to make it 3-1. Sanchez cut the lead to 3-2 with a goal for the Coyotes, but Gridley clinched it on the next shot to take a 4-2 lead with only one kick remaining for Denair.
It was a tough way for the season to end for Denair (17-11-4), which finished third in the Southern League but played its best in the playoffs, winning its second straight Sac-Joaquin Section Division VI championship and making it one round farther in the NorCal Tournament than last year's team.
"It's pretty disappointing. Very, very hard," said first-year Denair coach Antonio Padilla. "It's one of those things. It hurts. We played such a great game against a very good team."
Padilla took issue with the officials, who penalized Denair's defenders with six yellow cards for aggressive play.
"It's sad. It was out of our hands," Padilla said. "It could have been a 2-0 game but the refs called fouls and they scored. Gridley flopped a lot – at every single contact – and the refs gave us yellow cards."
All the foul calls caused some of his boys to "play with hesitation," Padilla said.
Sanchez — who finished with 51 goals in 32 matches, making him one of the top scorers in the state and nation – put the Coyotes on the board first with a goal about 15 minutes into the game. Gridley tied it on a free kick a few minutes later and the game went to the half with the score 1-1.
Despite their frustration on defense, Padilla told his players at halftime to "just play their game and have fun."
That advice paid off about 15 minutes into second half when Sanchez again beat the Gridley defense and found the right side of the net.
"Both his goals were beautiful," Padilla said.
But Gridley tied the game at 2-2 on another free kick a few minutes later, setting the stage for extra time and, eventually, a disappointing finish for Denair.
Still, Padilla said there is much to celebrate this season for the Coyotes.
"I'm really happy for all the good and positive things that happened," he said. "I feel good for the players. It was a team. I was happy to be their coach and enjoyed every single moment. The kids played with their hearts."
Third-seeded Gridley (14-6-2) moves on to play No. 1 Leadership (14-3) of Hayward in Saturday's NorCal championship match.