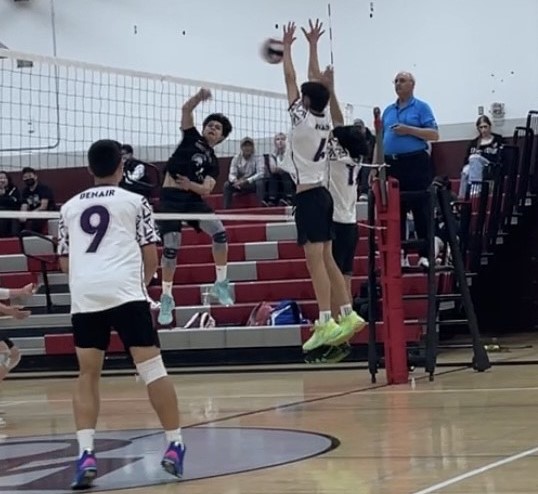 The Denair boys volleyball team began this season with virtually all the players learning the fundamentals of the sport because they had never played it before. They were accomplished in soccer – having won back-to-back Sac-Joaquin Section championships – but volleyball was brand new to them. 
Still, the Coyotes exceeded everyone's expectations except their own to finish second in the Southern League and qualify for the 16-team Division IV playoffs as the 12th seed. And though the season ended with Tuesday night's 25-15, 25-21, 25-19 loss to No. 5 West Campus in Sacramento, the result only fueled the fire of the nine players expected to return next spring.
"We talked about it after the game. Next year, the bar is raised," said Denair coach Christy North. "They're no longer beginners. They're 100% ready. They're thinking about soccer, but they can't wait to play volleyball again next year."
Denair (6-6) was a decided underdog against the Warriors (19-13), whose roster was full of experienced players. The Coyotes also were missing two of their middle blockers, both sidelined by injury.
"It took until the third set to get used to them," admitted North. "We actually started coming on strong at the end of the second set, but we just ran out of points. Then we started the third leading 4-1."
That momentum eventually faded in the face of West's depth and talent advantage, but North said Denair never gave up.
"We had some amazing plays and so much energy from the bench," she said. "I'm so proud of these young men."
North said the improvement the Coyotes showed is hard to quantify, but reflects on their work ethic, determination to learn a new sport and the bond they already had formed on the soccer field.
"They've gone from definitely what would have been a novice freshman team to a B level varsity team, able to compete regardless of outcome," she said. "It's that entity of being a team that keeps them in the game because they feed off each other. Our bench last night was as loud as West Campus' crowd."
The veteran soccer coach said she had "a blast" coaching a group of volleyball neophytes.
"I love coaching boys. It's the energy. It's the humor. The bus ride home last night was hilarious," North said. "I'm really enjoying being there for these guys. My role this year has been teaching them the skills of volleyball, but they pushed each other on the energy."
Only three seniors graduate this spring, so Denair could have most of its team back next year. Add in a few freshmen North hopes to recruit and any volleyball experience the players can add through summer camps and clinics, and who knows what could happen in a year.
"Most of them are focused on going to soccer clinics in the summer, but we'll probably have some open gyms here in Denair twice a week for boys and girls," North said. "We'll see what happens."