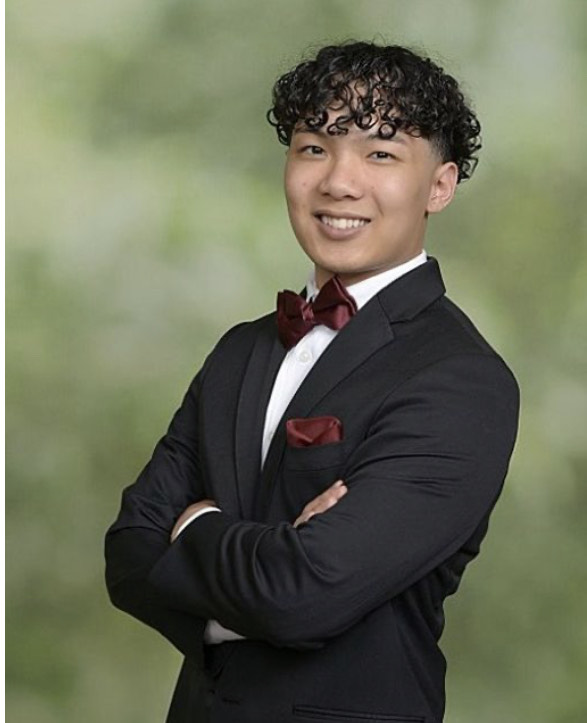 Matthew Lee is the Denair High School Class of 2023 valedictorian thanks to his 4.18 grade-point average. The salutatorian will be Rylee Gonsalves, who each compiled a 4.11 GPA over four years.
Graduation is set for Friday night at Jack Lytton Stadium. Gates open at 6:30 p.m. and the ceremony begins at 7 p.m.
Lee and Gonsalves recently took time to answer some questions about their high school experiences.
Question: The Class of 2023's educational experience as freshmen and sophomores was disrupted because of the pandemic and a year of school held primarily via distance learning. How do you think that will shape you and your classmates?
Lee: I transferred here to Denair High School at the start of junior year, and the previous year, sophomore year, was when we had distance learning. Basically, where I came from had a huge student population, so there were slight changes in how schooling was done; one of the biggest being that we did not have to have our camera on for any of the classes. Besides this fact, personally for me, distance learning caused me to be less in touch with my classmates. For example, it was very difficult to make new friends compared to freshman year, where I could easily be introduced to somebody by a mutual friend, and so forth. This was only social-wise, although, as for academics, it was a huge struggle for me to stay focused on work or even listen to the teacher because I had so many sources of distractions and so many things I could and would rather do than learn. This was a bad but addictive habit to develop instead of learning, but I learned to overcome it by dedicating much of my after-school hours to studying and asking one of my already-known classmates questions whenever needed. I can only imagine that my current peers felt the same as well, but they could have had a better academic outcome since I heard cameras must stay on during distance learning at Denair.
Gonsalves: Having the opportunity to have a mostly normal freshman year, before it got cut short three months early, helped our class have more of an appreciation of the high school experience and allowed us to make the best out of the years we are able to experience in person. Being online almost the entirety of sophomore year was a weird experience, so it was especially exciting to be able to go back to semi-normal school days and in-person learning for the last three months that year. These different learning experiences as a result of the pandemic helped me realize that these years are so important, and it inspired me to get more involved in extracurriculars, honors and AP courses so that I could really make up for that time I lost. I hope my classmates learned to appreciate the time we were able to be in school, as we got really lucky to have a part of freshman year, a "semi-normal" junior year and a "new-normal" senior year.
Q: What are the key things other students should know about your academic success and how you achieved it?
Gonsalves: I think the key thing I want other students to know about my academic success is that it was a difficult, time-consuming and emotional goal to achieve through my long-term set goals and determination. I had battles with myself every day because for almost my entire life I was set on being the valedictorian, and it was hard to accept that I was just short of that title. I've learned that these titles aren't labels on the actuality of how smart I am or that others are. I achieved my goals of being at the top of my class by following through with my promise to myself I made early on, where I had the idea to become the valedictorian or salutatorian in middle school and then when freshmen year came around, it was actually time to step up and do what it takes to get to the place where I want to be. I was the main person who pushed myself to become the best I can be and I really thank myself for doing that.
Lee: The key thing that motivated me the most was to see that A on my final grade at the end of each semester. What I did to achieve this — although it took a huge amount of dedication and determination — was spend countless hours reviewing notes or flipping through a huge stack of flashcards in order to be ready for that big test. My parents are also huge motivators for me since they will reward me if I finish the year off with excelling grades.
Q: How much time outside of regular class did you spend studying or doing homework?
Lee: During some of my high school career, from freshman to junior year, I would dedicate a lot of time to studying and doing homework. Especially during my time at my other school, they would assign what seemed like an endless stream of homework, and on top of this, they would end the week off with at least a couple of quizzes or tests. There was always a project that needed to be finished in one of these classes. Needless to say, I spent a lot of time outside of my regular classes studying or doing homework. Senior year, although a different story, struck me early and hit me hard. I was struggling to even study for that quiz at the end of the week or complete my assignments. There were many times this year where I had to turn in my assignments late or didn't know what to do during a quiz or test since I had dedicated no time to studying.
Gonsalves: I would say that I spent about three to four hours a night studying or doing homework, but that number would be much higher if I didn't take the chance to study and work on homework during my TA periods and free periods after school.
Q: Which classes and/or teachers at Denair High had the most influence on you?
Gonsalves: The teachers who have had the greatest influence on me at Denair High would have to be Ms. North, Mr. Allen and Mr. Cumberland. Ms. North and her AP English classes helped me challenge myself and feel better prepared for college-level classes and assignments. I especially love her personality and that she pushes her students to get to their full potential. Mr. Allen is a teacher who really loves this school and each of his students. While I was only in his AP U.S. History class, he made learning fun and was very inclusive with me and being in his clubs centered around athletics. While I do not play any sports, he saw that I also loved being a part of the school and being a part of the yearbook class, which made me find a love for photographing and watching sports, he made me feel included in the club activities. Mr. Cumberland was my freshman year health teacher and junior/senior year yearbook advisor, and with his many words of advice and support, he helped me through becoming the salutatorian of my class and getting me out of my comfort zone. He helped me find the love for photography and journalism, which I hope I can continue doing after high school.
Lee: The classes that had the most influence on me were probably the ones that helped me introduce myself to other people socially. These were Mr. Allen's history class and a physics class I took at my old school. I met some great people in these classes who ended up being my biggest friends throughout high school. These were the classes I looked forward to attending.
Q: How many Advanced Placement classes were you able to take? Were you challenged?
Lee: Weirdly enough, the only AP classes that I took throughout my entire high school career only happened during my senior year. They were AP Macroeconomics, AP Government and AP English Literature. They were challenging classes, but personally, I would say they weren't as hard as the honors classes I took during my freshman and sophomore years. It was a challenge to pick myself up and do the work because these courses didn't pique my interest and I was just very unmotivated to do my work. There would be moments where I would be very invested in one of these classes, AP English Lit, when we had to read "The Things They Carried" and "Macbeth."
Gonsalves: I was able to take five AP classes and two honors classes throughout my four years at Denair. I took honors math my sophomore year, then honors math, AP U.S. History and AP English Language my junior year, then AP English Literature, AP Government and AP Macroeconomics my senior year. I felt fairly confident in my AP U.S. History, Literature and Government classes and it felt more challenging in my AP Macroeconomics and English Language classes. Macroeconomics struggle was due to the many different graphs, equations and concepts that are gone over in only half a year, and while I don't think the material of Language was difficult, it was the heavy workload that class consisted of compared to my other six classes that made it much more of a challenge.
Q: What kind of culture of learning exists in your home? What has that meant for your success in high school?
Gonsalves: Good grades are expected in most people's homes, and while I was always a good student with straight A's and few B's, my two different home styles made learning culture hard. At my mom's, she was supportive of me no matter if I had a C for a little bit in a class or an A+. At my dad's, it was always expected to have nothing less than an A. Feeling pressured to only have A's was challenging, but it was helpful in the end since I am here now as the salutatorian. I will also be the first in my immediate family to go to college, which I am grateful that I have the chance to go to, all because of my want to learn and my success in school. I am so glad that I pushed myself these four years but didn't burn myself out to want to do another four years of learning.
Lee: The culture in my house influenced my way of learning immensely. First of all, my older brother and I were very competitive and always strived to do better than one another. This contributed to my academic success because he was in no way an average scholar; he was very smart and took challenging classes, so I strived to one-up him in every aspect. Just a friendly brotherly competition. My parents also encouraged and motivated me to do my best no matter what, but this wasn't all for nothing because for my academic achievements they would grant me a well-deserved prize, which could be money, a nice dinner, etc.
Q: What should members of the community know about the quality of education at Denair High?
Lee: In my opinion, the way of teaching at Denair High School is well done, and the parents planning to put their kids into attendance at this school shouldn't worry at all about their education. Every class that I took here has left me educated and satisfied in my confidence in knowing said subject.
Gonsalves: The quality of education at Denair High isn't something you can easily achieve at bigger schools local to us. The community itself of Denair is small and like a family where everyone knows each other and everyone helps each other out. The same goes for the school, as the students here are also like a family, where you have had at least one conversation with every student here or know every student, which isn't as easy to do at a school with more than 300 kids like Denair High does. I appreciate the small class sizes and how it's easier to create relationships with your teachers and peers, making every class feel more personal and comfortable that you know most of the people there and don't feel like a stranger if you were in a class with 50 people as opposed to 20-30 people.
Q: Outside of class, what kinds of teams, organizations or clubs are you involved in? How important are extracurricular activities in preparing you for college and beyond?
Gonsalves: Outside of school, I was involved in the yearbook my junior year and then became the yearbook editor my senior year, publicity coordinator for ASB leadership, a member of the California Scholarship Federation and the Committed Coyote program. Extracurricular activities are very helpful in preparing you for college or simply just life after high school as it gives you experience working with a team and giving you a set of responsibilities to follow. These clubs also help out your college resume and appeal on job applications, as these places most likely want someone who is involved and a team player.
Lee: At my old school, extracurriculars were important to me because I did wrestling. The biggest thing that I liked about wrestling was the team-building skills and the friendships that I made during the season. I also joined a Filipino club, which always had many activities to do. Over here at Denair, although I only participated in the Environmental Club for a little bit, that doesn't mean the club isn't bad at all. I liked the club a lot, and there were a lot of activities that happened, and all of the club attendees were very kind. I did eventually stop attending these clubs and sports because I started to get a job so I could pay for a car.
Q: What is the right balance for teens busy with school, teams or clubs, and even part-time jobs?
Lee: I think the right balance for teens busy with school and all of the extracurricular activities is to do what they love the most, or whatever their passion is. This doesn't mean you shouldn't at least get passing grades in high school, although you can walk the stage with your diploma in hand.
Gonsalves: Time management is a must for teens. Whether you are involved in AP classes, clubs, sports or jobs, you're always going to want to have the time to relax and spend time with friends and family. It's essential to find the right balance and discipline with making sure you get your work done before going out, still being an active participant in club activities that are meaningful to you, showing up to your games, and being a good worker if you have a part-time job. I am glad I found my right balance with homework and clubs while also having lots of time to have fun or relax.
Q: What are your college and career plans?
Gonsalves: I am planning on attending Sacramento State in the fall as an interior architecture and design major. I hope to become an architect or interior designer, depending on if I want to go to graduate school to get my master's degree in architecture or join an interior design firm after receiving my bachelor's.
Lee: I am going to Menlo College. I am going to pursue a career in business, hopefully participating in the creation of a family business.
Q: What themes are you going to talk about in your graduation speech?
Lee: I am going to congratulate every high schooler in the class of 2023 for completing this astounding task as well as talk about what it was like moving to this school.
Gonsalves: I am planning to talk about my love for school and learning, my love for my class and the number "23" as it is a part of our identity, and thanking my friends and family who stayed by my side and supported me all throughout my life. I hope my speech stays with my class as I hope they appreciate the memories of their high school years like the way I will.