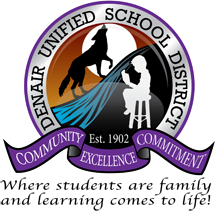 Submitted by Denair Unified School District
Santa made a brief appearance at Thursday night's meeting of the Denair Unified School District school board. If there was one thing school officials could wish for this Christmas, it is more students.
Trustees heard an interim budget report from Chief Business Officer Linda Covello, who shared that the district remains on track to meet its fiscal targets this school year, largely due to a one-time $500,000 infusion of state funding to its $13 million budget. But lurking on the not-too-distant horizon is a sobering reality: Unless the district can begin to grow enrollment again, there may be some difficult financial decisions to make.
Total district enrollment this school year, Covello said, is 1,316, a 2% decline from the previous year. The loss of students has dramatically slowed from a few years ago, when the rate was as high as 11%. The trend is critical because enrollment is at the heart of how the state calculates Average Daily Attendance, or ADA. Each student is worth roughly $8,000 per year in state funding.
"Our decline is getting better, but we're still going down," Covello said. "The middle school is pretty much stable. We have declining enrollment at the high school and growing enrollment at the elementary school."
Part of Covello's responsibility is to project three years out. Right now, her forecast is for the district to creep back into deficit spending in 2016-17 and 2017-18 because of fewer students and higher mandated contributions to state retirement funds. Even under those scenarios, Denair still would meet the state requirement to have at least 3% of its budget in a reserve fund. Continue reading "DUSD Enrollment Decline Slowing, but Still Affects Budget Outlook" »