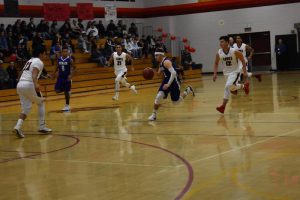 Submitted by Denair High School
Possibly as soon as Tuesday night, the Denair High School boys basketball team can accomplish something it hasn't done in seven years – clinch a spot in the Sac-Joaquin Section Division V playoffs.
The Coyotes are 7-2 with three regular-season games remaining on the Southern League schedule. They are two games behind unbeaten Mariposa (9-0), but even more important, they are two games in front of third-place Orestimba (5-4).
A victory Tuesday night against Gustine (4-6) would assure Denair of its first playoff berth in R.J. Henderson's six seasons as head coach.
"I've told them to embrace it. It's uncharted water for us," Henderson said Monday. "We used to get 50 or 60 people in the stands, but now we're playing in front of several hundred. It's fun. The guys are big men on campus right now. They're walking around with their chests out."
After Tuesday, Denair will be at home for its final two league games – Friday against Orestimba (5-4) and next Monday against Waterford.
The playoffs begin Friday, Feb. 16. Depending on how they finish, there is an outside chance the Coyotes could host their first game. More likely, Henderson said, is that they will be sent on the road to play a higher seed.
No matter. This year's players and coaching staff are riding a wave of excitement not felt since 2010-11, the last time Denair qualified for postseason.
Last Friday, the school chartered a rooter's bus for the team's away game in Delhi. More than 70 people climbed aboard. They were treated to a rout – Denair crushed the Hawks 62-35.
"It was electric," Henderson said of the support from the stands.
More fun is planned this week, including "Blackout Night" on Friday against Orestimba. Henderson plans to break out special black uniforms for the Coyotes, something he's never done.
"They were purchased before I got here," he said. "We've never used them other than summer league. There are only nine of them. I thought about using them in years past, but we always had more than nine guys.
"The players are excited, I know. I expect the crowd on Friday could be our best ever."
Henderson said the seeds for this season's success were planted over the summer, when many of the players traveled to Reno for a tournament and kept practicing, even as some were playing other sports in the fall. A schedule change at DHS has benefitted the team.
"Having seventh-period athletic gave us an extra 40 hours of preparation," he said. "It's an equalizer for us. Just to shoot or walk-through, it's a chance to go over specific things and evaluate talent."
Denair was just 4-9 in its non-league games, but began playing its best basketball when the calendar flipped to 2018.
"This has been a close-knit team. We've grown together. We're really starting to trust ourselves on the court," Henderson said. "And we also have a terrific group of parents who've hosted team dinners."
With only nine players, the Coyotes don't have a lot of depth. They also are young, with only two seniors on the squad.
Their top four scorers are two juniors and two sophmores. Steffin Winston (15.1 points per game, 11.2 rebounds per game) and Drew Pritchard (14.1 ppg) both saw time on the varsity last year as sophomores, as are Ben McGuire (11 ppg) and Austin Upfold (7.8 ppg) this season.
"It's a good group," Henderson said of his team. "We've had contributions across the board."
Though the prospect of a playoff spot is tantalizing, the coach said the Coyotes don't have the luxury of looking past anyone. Especially Gustine on Tuesday. The Reds knocked off Orestimba last Friday to preserve their slim playoff hopes.
"Gustine has been playing well of late," Henderson said. "Their best player (junior Alex Guerrero) didn't face us the first game. He was sick."
Guerrero has scored 20 points or more six of the past seven games, including 27 against Orestimba.
Still, Henderson likes his team's chances. His defenders have shut down some of the SL's other top scorers in recent weeks.
"If we win (Tuesday), we're in," he said. "If that happens, we'll celebrate and have a good time."