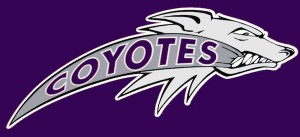 Submitted by Denair High School
So much has gone right this year for the Denair High football team that a victory Friday over Waterford – on Senior Night, in the final regular-season game of the year, with a playoff berth likely riding on the outcome – seemed preordained.
The scrappy Coyotes have been the feel-good story of the fall, winning games despite a 15-man roster and earning regional and media attention in the process. Surely the Hollywood script writers knew the proper ending.
Uh, apparently not.
Waterford's 20-12 victory not only threw cold water over a rabid fan base primed to let loose with a raucous celebration at Jack Lytton Stadium, it threatened to be the final act of an otherwise magical season. A playoff spot that seemed so certain suddenly was at risk.
"I think everybody was disappointed because we felt we had to win to get in," said Coach Anthony Armas on Sunday. "We had a really good crowd. A lot of alumni showed up."
He said the players and coaches all realized what a loss might mean. "We felt very bad. … It all kind of hit home after the game."
Still, as had already been planned, the entire Denair team and coaching staff gathered Saturday afternoon in Athletic Director Darrin Allen's classroom to watch a live feed of the playoff announcements. They had to wait more than an hour before the Division VI pairings were revealed.
And then they heard their names called right away.
Despite Friday's upset, Denair was rewarded with the No. 8 seed. The Coyotes (6-4) will play top-seeded Amador (10-1) on Friday at 7 p.m. in Sutter Creek.
"We got a little reprieve," said Armas, admitting, "I was pretty nervous."
Making the playoffs provided a much-needed balm to the self-inflicted injuries Denair suffered through Friday against Waterford.
As has been the case even in wins over Delhi and Mariposa the previous two weeks, the Coyotes were their own worst enemies. With starting quarterback Kyle Prock still nursing a knee injury suffered a month ago against Southern League champion Orestimba, Denair was sluggish on offense. Compounding the struggle again were critical turnovers: Two of Waterford's three touchdowns came on fumble recoveries in the end zone. Denair also suffered two interceptions.
"Again, our defense played well and our offense didn't," Armas assessed. "Teams have figured out that we can't throw the ball, so they bring everybody and we can't get them all blocked."
Still, Denair built a halftime lead against Waterford and seemed to be in control thanks to two touchdowns by Chase Pritt. He capped the opening drive with a long touchdown run to put the Coyotes ahead 6-0. Then, a little bit of trickery paid off in the second quarter with a play Armas installed just last week.  Sophomore quarterback Drew Pritchard completed a short pass to Blake Davis, who quickly lateralled to Pritt. He scampered 63 yards for a TD that gave Denair a 12-8 lead.
In between Denair's two scores came its first key turnover. A botched snap on a punt was recovered by Waterford for its only first-half points.
Denair maintained its slim advantage through a scoreless third quarter before Waterford went ahead on an unscripted play early in the final period.
"Their QB got loose. We broke our coverage and their receiver was wide open," Armas said.
Following the kickoff, with Denair pinned deep in its own end of the field, Waterford capitalized on another critical Coyote mistake. A fumbled snap on a quarterback-center exchange resulted in the ball wriggling into the end zone, where a Waterford player fell on it for a 20-12 lead.
The loss dropped Denair into a third-place with Gustine in the Southern League. Delhi finished second alone behind Orestimba.
"Our goal was to be 6-4 and make the playoffs. We had a chance to be 7-3, but that didn't happen," said Armas, a 1997 Denair graduate who has turned the program around in just two seasons. "All the injuries make it more of an accomplishment. And all the media attention was exciting for the kids."
Junior varsity game: Denair won 40-0 to finish with a perfect 8-0 record. The Coyotes won the Southern League championship by defeating all seven opponents. It is their first title since 2001.
This week: Denair will travel to play Amador in Sutter Creek. Amador was second in the Mother Lode League behind Sonora. "They're good. That league is just brutal now," Armas said. The Buffaloes are led by senior running back Daylon Thetford, who played just six games because of injuries but averaged nearly 160 yards per game in total offense and scored 12 touchdowns. Amador's defense created 28 turnovers, including 19 interceptions, three of which they returned for scores. Armas expects to add four or five players from the JV team, but Denair will be without Justin Gomes, who separated his shoulder against Waterford.