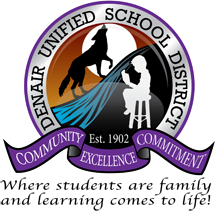 Submitted by Denair Unified School District
There will be two vacancies on the Denair Unified School District Board of Trustees for voters to fill in the November election. Prospective candidates are invited to a forum Thursday, Aug. 10 that will be occur at the end of the board's regularly scheduled monthly meeting.
The meeting begins at 7 p.m. in the district board room, 3460 Lester Road.
Trustees Sandi Dirkse and Robert Hodges already have announced they will not seek re-election. Two years remain on the terms of the three other board members – Kathi Dunham-Filson, John Plett and Ray Prock Jr.
Prospective candidates for the Nov. 7 election have until Thursday, Aug. 16 to file their paperwork with the Stanislaus County Office of Elections.
Trustees meet monthly and help set policy for the 1,300-student district, which includes four campuses.