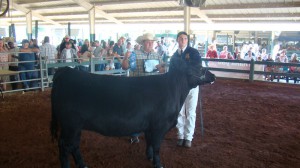 Led by Denair FFA advisors Mr. Bill Douglas and Mrs. Summer Tannehill, over thirty Denair High School FFA members showed animals at the Stanislaus County Fair, July 7-20, 2014, and collected numerous awards. Of the many impressive wins, were Caleb Johnson, who won Reserve Supreme Champion Hog, as well as first place overall in Advanced Swine Showmanship. Holley McDiffett won Champion Yorkshire Hog, Nadia Johnson won Champion All Other Breeds Hog and Eli Johnson won Reserve Champion Crossbred Hog. In Overall Advanced Swine Showmanship, Eli Johnson took fourth place, Nadia Johnson took fifth, and Tristan Haile took eighth. Denair FFA placed first in Chapter Group Swine. Twenty-two students showed swine this year.
FFA Advisor, Mrs. Tannehill said, "It was amazing to see Denair on the FFA Jackets of so many students in the advanced rounds. To have four out of eight exhibitors in the advanced showmanship drive is an amazing feat, as well as having three out of five of the breed champions. All of the exhibitors put countless hours into their projects, and it was great to see everyone helping one another and cheering for each other."
Denair FFA's goat exhibitors also did very well. Heidi Johnson won the FFA Junior Champion as well as Reserve Grand Champion Grade Dairy Goat. Janet Garcia placed first for True Novice Meat Goat Showmanship, and Garcia and Victoria Adler won third place for Clean Barn – Meat Goats.
In Sheep, Christopher Galhano won Supreme Champion Breeding Ewe and Reserve Champion Breeding Ewe. He also took third place in Overall Advanced Sheep Showmanship. In Overall Advanced Sheep Showmanship, Caleb Johnson won fifth place and Tristan Haile won seventh.
In beef, Weston Fair won Champion Cow Calf and Champion Bred and Owned. He was also the first place winner of Advanced Beef Showmanship.
In the rabbit category, Ale Parada took first place in her Lion Heads class.
Carson Haringa also had a successful week at the fair. Showing Dairy for Denair FFA, he was the overall winner of true novice showmanship.
On Friday, July 18, Caleb Johnson placed third and Weston Fair placed seventh overall in the Master Showmanship category. In this contest, students had to show one of each of the following species: beef, sheep, swine, dairy cow, meat goat, and dairy goat.
The first week of July, Christopher Galhano's breeding ewe also won Supreme Champion at the California State Fair.
Mrs. Tannehill added, "Overall, the students of Denair FFA had an amazing fair experience. To compete and do so well against all of the other small and large schools in Stanislaus County says a lot about our Ag program. The best part is students are learning responsibility, as well as work ethic, throughout the time they are raising and working with these animals. They have also studied the livestock industry to be prepared to answer questions pertaining to their projects. Many students are already beginning to prepare for another livestock project next year at the fair."