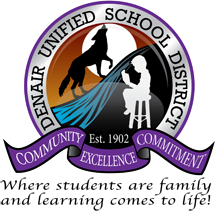 Submitted by Denair Unified School District
The start of a new school year always is an exciting time for students and staff. In Denair, there will be an additional boost of energy and inspiration next week thanks to appearances by two popular motivational speakers.
On Monday, all employees from the Denair Unified School District's six campuses are invited to be enlightened and entertained by Harvey Alston, a former teacher and coach whose message of individual responsibility has resonated with teens and adults across the country.
When classes begin on Tuesday, many students will be treated to Pat Hurley, a three-time Emmy winner and one of the nation's leading comedians for teens.
The idea to bring in the two men originated with Superintendent Aaron Rosander, who said they come highly recommended from education leaders he has talked to. He hasn't seen them in person, but was impressed with video clips he watched online.
"Speakers are brought in to set the stage for a highly positive and successful school year," Rosander said. "The respective messages on the power of education, commitment to excellence and hope for the future will be sure to inspire all who attend."
Alston is based in Ohio and has spoken to students and staff at more than 6,000 U.S. campuses in addition to businesses and other organizations. He's taught English, sociology, biology, math, health and life sciences, coached high school football and worked at a university.
According to his website, his focus is on self-empowerment and shared accomplishment. He reminds his audiences that "life is only what they make it and that self-respect does not come with the job, but is brought to the job by people who do the best they can do."
Alston's presentation is part of a professional development program a day before classes begin.
Hurley comes to Denair from Lafayette, in Contra Costa County. He has spoken in 47 states and won three Emmys for his television work hosting and writing teenage talk shows in Los Angeles and Chicago.
He is a passionate supporter of schools and laces his humor with serious messages to students about academic excellence and college preparation. "I love laughing," he says. "I hate lectures."
Among Hurley's routines are "Funny Things Parents Say and Do,"  "Guys in front of a Mirror in the Morning,"  "What REALLY goes on at Girl's Sleepovers"  and "Morning Announcements."
Hurley will give two presentations Tuesday. The first will be for middle school students at the Coyote Center at 9:30 a.m. The second will be for Denair High School students in the gym at 10:30 a.m. Parents and other members of the public are invited to attend either of Hurley's sessions.
Rosander is excited about the energy and inspiration Alston and Hurley will bring to the district.
"Believing in the power of positive students and an upbeat work climate, both speakers will be perfect in kicking off the school year on just the right note," he said.
Denair Unified School District has about 1,400 students spread across six campuses – a high school, middle school, elementary school, two charter schools and a state-sponsored preschool.