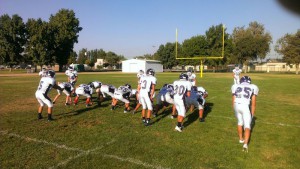 Submitted by Denair Unified School District
They are small in numbers, but mighty in spirit. Energized by a new coach with an innovative offensive approach, the Denair High football team can't wait for the 2014 season to start.
The Coyotes open at home Friday against Summerville. Kickoff is at 7:30 p.m. at Jack Lytton Stadium.
The 21 members of the varsity and 23 boys on the junior varsity have been practicing for two weeks, but the seeds to a revamped program were planted in early April when Ted Howze was selected to be the varsity coach.
It is Howze's first foray into the high school ranks after many years as a successful coach with the Cen-Cal Junior Football program in Turlock. He is a veterinarian by training and owns a large-animal practice in Turlock. He also is a former Turlock city council member (2006-10).
Howze has a strong connection to Denair High. His oldest son graduated in the spring and his two youngest sons still attend the school. His late wife, Sharon, was an assistant track coach for the Coyotes.
He takes over a program that was 2-17 the past two seasons.  Howze knows he must change the culture for Denair to again become competitive in the Southern League.
"One of our primary goals is to create an atmosphere where students and parents want to be at Denair High — athletically and academically," he said. "It's going to set a tone for other sports as well."
Howze is passionate about football.
"I've wanted to be a high school football coach since I was 15 years old," said Howze, who played guard and linebacker at Hanford High School before earning degrees in exercise physiology and veterinary medicine at the University of California at Davis. "I knew football was something that influenced my life and built character."
Howze has no illusions about the challenges in front of the Coyotes. He understands the need to rekindle enthusiasm among students and fans while maximizing the talents of a small but committed group of players. To do that, he has installed a unique offense, what he calls "a multi-formation, direct snap attack." It features an unbalanced line, lots of motion and misdirection – all intended to keep defenses guessing.
The results were encouraging at last Saturday's scrimmage in Linden, where Denair took on the host Lions as well as Liberty Ranch of Galt and Livingston.
"Our JV team kicked everybody's butt. Our varsity team held their own, even with losing our offensive tackle on the fourth play while he was playing defense," Howze said. "Nobody stifled us."
He said the "spin offense" is unique to Denair. The players have "bought in" and become more proficient with each practice.
"We always felt this gives us a huge advantage," Howze said. "(Opponents) won't see it anywhere else. They've got to spend time trying to practice against it without knowing how to run it. It can become a nightmare for them on game night."
On defense, the Coyotes will run a scheme built around an aggressive group of linebackers to make up for lack of size along the line.
Howze was impressed that Sunday – the day after the scrimmage – virtually all the varsity and junior varsity showed up to lift weights. "The kids were pumped," he said.
All the players also participate in a 30-minute study hall each day before practice. Tutoring and other help in math, English, science and other subjects is available. It's also another chance for the players to bond.
"I want to turn out quality student athletes," Howze said. "That's a priority for this program."
Howze and his teams also appreciate the work that booster club volunteers and others have put in at Jack Lytton Stadium. Fresh coats of paint were applied to the goal posts, signs and railing, and the entire area spruced up. The field is another story – bare spots caused by a turf fungus and burrowing animals make for an uneven surface. But even that can't diminish the excitement shared by Howze and his players.
"We can't wait for Friday night," he said.
Denair competes in the Southern League, whose other members are Delhi, Gustine, Le Grand, Mariposa, Orestimba, Ripon Christian and Waterford.