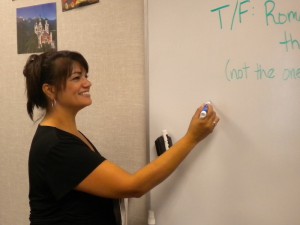 Submitted by Denair Unified School District
Mrs. Gina Michael is the new Social Studies teacher at Denair Middle School. She graduated from Chapman University with a degree in Social Science. She taught 7th and 8th grade Social Studies at Hickman Charter School prior to coming to Denair.
Mrs. Michael loves the "story" part of history and studying various perspectives from around the world. She particularly is interested in technology, archeology, civics, and politics. She loves a good argument and appreciates seeing both sides of an issue.
In the classroom, Mrs. Michael is planning engaging lessons that help students think about and question their world. She hopes to move away from the "read your book and fill in the worksheet" model of teaching. She wants to instead create a dynamic program full of 21st century learning activities. She is already bringing technology into her lessons.
Mrs. Michael and her husband enjoy camping with their two sons and watching them play sports.