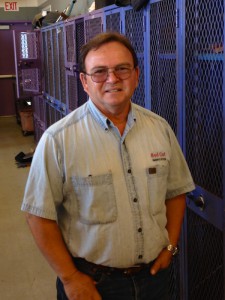 Submitted by Denair Unified School District
Mr. Rick Diaz is Denair High School's new Ag teacher. He teaches Small Engines, Introductory and Advanced Ag Mechanics, Landscape and Farm Management, and Ag Earth Science.
Mr. Diaz graduated from Fresno State University with a degree in Ag Business and a minor in Plant Science. He was raised on a vineyard in Fresno and has repaired farm machinery since he was a boy.
For the past four years, Mr. Diaz has taught shop classes and has been a Welding Instructor at Fresno City College.
Mr. Diaz enjoys watching his students grow in their knowledge and skills and arrive at a higher level of confidence. He would like to see the Denair High School Ag program grow into a three-teacher team where there is an expert in plant science, animal science, and Ag mechanics. He is considering his students' requests to coach an Ag Mechanics team.
In addition to teaching, for the past 20 years, Mr. Diaz has been a wrestling official and a part time charter bus driver.