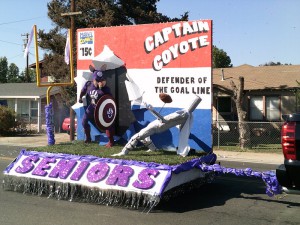 Submitted by Denair Unified School District
Beautiful queens accompanied by brothers who became kings. An entertaining marching band and energetic cheerleaders. Stylishly decorated floats, tricked out trucks and shiny convertibles.
And purple. Lots and lots of purple. Plus, plenty of smiling faces.
The annual Denair High School homecoming parade had it all Friday afternoon, marking a fun-filled and memorable beginning to a day that concluded with the varsity and junior varsity football games against Ripon Christian.
Hundreds of people lined the parade route, which began outside the high school on Lester Road, turned east on Main Street and followed a roundabout path before returning to campus.
Even a brief delay at Main Street and Sante Fe caused by back-to-back Amtrak and freight trains didn't dampen the enthusiasm. The band kept up the beat, the students on the floats waved and waved, and the crowd cheered.
The festivities began in the gym with the crowning of varsity and junior varsity royalty.
Seniors Stephanie Gazcon and Pepe Fuentes were chosen as queen and king, generating a roar of approval from the hundreds of students in the bleachers.
Freshmen Litzy De La Cruz and Luis Fuentes (Pepe's brother) were honored for the junior varsity, again sparking an enthusiastic reaction.
Other varsity nominees for queen were Savannah Dixon, Samantha McVeigh, Macie Hughes, Alyssa Lopez and Destiny Silva. Austin Hughes, Noah Melrose, Edwin Flores, Carter Lawson and David Sweeten were in the running for king.
Among the junior varsity, the queen's court included Abby Helnore, Kelsey Park, Eva Varni, Hannah Knox and Bryanna Suarez. The other nominees for king were Brenden Curnow, Ethan Lei, Seth Snider, Dylan Mann and Chase Pritt.
Each of the high school grade levels created a float. The theme was "Super Heroes" and the students clearly took that to heart, each using a Coyote with special powers to defeat or dominate a Knight, which is Ripon Christian's mascot.
The senior float featured a muscular and purple-clad Captain Coyote with his mighty shield bursting through a red, white and blue background. The "Defender of the Goal Line" was too much for a meek knight.
The junior float sported a Batman theme, with a caped crusader in a black Coyote-mobile running over a helpless knight under the backdrop of a metropolitan sky.
The sophomore float had a hulking giant green Coyote with purple pants crashing through a knight's fortress, burying him under a pile of broken bricks.
The freshmen float drew inspiration from Superman. A powerful Coyote-man in the familiar blue tights and red cape towered fearlessly over a sword-bearing soldier in armor, declaring, "You're no Krypto-knight."