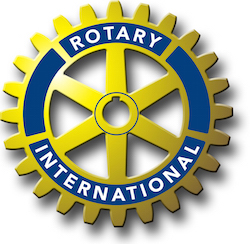 Submitted by Sunrise Rotary of Turlock
Friday the 13th will be a lucky day for three Denair High School juniors.  Edwin Flores, Jordan Sandoval, and Eva Olivas have been selected to attend Rotary Youth Leadership Award (RYLA) camp at Camp Oakhurst for Eva and Calvin Crest for Edwin and Jordan.  The camps begin on Friday, February 13 and conclude on Monday, February 16.  Students selected for their leadership skills from throughout the Central Valley have been invited to attend this leadership camp where they will provide the music, events, a newspaper, nightly campfires, and run the camp.  The camp features speakers who are motivational speakers, business leaders, and government leaders.
The Sunrise Rotary of Turlock sponsors the students of Pitman High School, Turlock Christian High School, and Denair High School in being honored by RYLA.  When Eric Julien, Youth Services Chair of the Sunrise Rotary Club, found out that Denair hadn't sent delegates for a number of years and inspired by hearing daily for thirty-six years from his wife, Becky Julien, former DES and D2A teacher, that Denair has great students, he contacted his former student, Elise Domico, guidance counselor, and former Rotary Leadership Camp attendee and employee.  Mrs. Domino advertised the opportunity to the juniors of DHS, collected the biographies and recommendations for applicants, and participated in interviews of all applicants.  After the applicants were interviewed, one male and one female student were selected as delegates and one male and one female alternate were selected.  An unfilled opening from another school in the valley meant that a second male student from Denair would also be able to attend.
Denair Superintendent of Schools, Aaron Rosander, upon being informed that Denair High School students would be attending RYLA, remarked, "I'm very familiar with RYLA. My own son was a participant a couple years ago in another county and high school. RYLA is an honor and terrific experience for high school students."   Mrs. Domico is to be lauded for her efforts on behalf of Denair students.  Edwin, Jordan and Eva will represent Denair as leaders among their peers from the Central Valley and will experience a fun, challenging, and educational extended weekend.