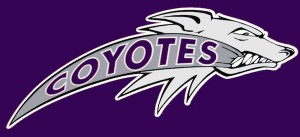 Submitted by Denair Unified School District
The first victory came easily for the Denair High football team.
In front of a supportive home crowd, the Coyotes raced to a 27-point lead in the first quarter and never let up in a lopsided 41-12 win over Brookside Christian of Stockton.
It not only evened Denair's record at 1-1 this season, it also was the first-ever victory for new head coach Anthony Armas. He must have done something to celebrate, right?
"Not really. I went home and uploaded game film," Armas said. "It's just one game."
Denair's linemen – many of whom play offense and defense – dominated on both sides of the line of scrimmage, Armas said. Offensively, they opened big holes for the Coyotes' backs. Defensively, they effectively bottled up Brookside Christian (0-3), allowing touchdowns only in the second and fourth quarters.
Denair started quickly. On its first play, running back Juan Berrera took a handoff, followed some good blocks on a trap play and raced about 60 yards for a touchdown. Berrera later scored from 5 yards out.
"He hit the hole pretty fast and once he got past the front line, he was free," Armas said of Berrera's first TD.
Other highlights in the first-quarter blitz included a punt return for a touchdown by Chase Pritt and an interception by outside linebacker Justin Steely that he returned to the Brookside 10-yard line. A couple of plays later, Steely took a pitch and scored another Denair touchdown.
"It's a process," Armas said of his young team and their progress. "They're getting better every week. We're just working to fix some little things on both sides of the ball."
This week, the Coyotes play their final non-league game against Argonaut. The contest is supposed to be in Jackson, but because of the Butte fire, there is a good chance it could be moved to Jack Lytton Stadium. A decision is expected as early as Wednesday.
Because of the week-old fire that has scorched more than 71,000 acres and burned more than 135 homes, many high school teams from Amador, Calaveras and Tuolumne counties have canceled or moved their events.
Argonaut's football game against Bear River, which was supposed to have been played Friday night in Jackson, was postponed until Monday in Grass Valley. Argonaut (1-2) lost 37-20. Two weeks ago, the Mustangs beat Brookside Christian 41-6.