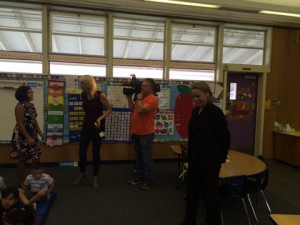 Submitted by Denair Unified School District
The brand new kindergarten Spanish immersion program at Denair Elementary Charter Academy received great exposure Monday morning with a visit from a news crew from Channel 31's "Good Day Sacramento" program.
The excited students from the classrooms of teachers Sandra Cisneros and Nancy Silva sang a song in Spanish and English as reporter Cambi Brown listened and her cameraman broadcast the events live on television.
Brown, who is bilingual, spoke in Spanish and English to the students. She also interviewed DECA Principal Sara Michelena. To watch the fun segment, go to http://gooddaysacramento.cbslocal.com/video/category/spoken-word-good-day/3299824-spanish-immersion/. Different versions of the report also will be featured on Channel 31's noon and 4 p.m. news programs Monday.
The kindergarten Spanish immersion program began this year and already has proven to be especially popular with parents. Thirty-two youngsters signed up, creating the need for a second class. An additional teacher has been hired. There still is room for another dozen or so students in the program.
The classes follow the 90% Spanish and 10% English dual immersion model, Michelena told Brown. There is an equal mix of English and Spanish speakers. The intent, she said, is to add a dual immersion class at successive grade levels each year as the first group of kindergartners gets older. Michelena said by the time the first group of students become second graders, they will be completely bilingual.