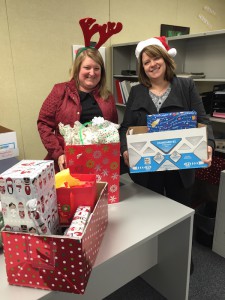 Submitted by Denair Unified School District
Like many workplaces, the staff at Denair Charter Academy often has organized potlucks and small gift exchanges during the holidays. But this year, the professional and emotional bond they share mentoring non-traditional students — many of whom arrive on campus from at-risk backgrounds – led to a different, more personal idea.
Teachers Suzzan Whitecloud and Sally Baker, along with first-year Principal Dawn Allen, imagined a way to positively impact some of their students' lives outside of campus. They recognized that food, clothing, cooking utensils and other basic necessities often were in short supply. That some young children were without a single toy at Christmas. What if, they thought; we directed some time and money toward those students most in need?
The idea was a hit with the 20-member staff. Friday afternoon, four families were the grateful recipients of special deliveries from the DCA co-workers.
"It is very inspirational," said Allen. "To work here, you have to be an empathetic person. The whole staff has been contributing."
Even as they acknowledged that many of their 300 students are confronted daily with difficult financial and/or emotional circumstances, the staff at DCA knew they couldn't help everyone. They narrowed down their list to these four families:
Two DCA students whose family recently lost everything in an apartment fire. They, their parents and two younger siblings are living in a hotel. The Red Cross has helped, but that relief is temporary. The DCA staff collected money to buy clothes and food as well as toys for the younger children. In January, when the family hopes to move into another apartment, Whitecloud said the plan is to help them with furniture.
A DCA student whose grandfather just became their guardian. The children range from 4 years old to 17. One of the teen-age girls does all the cooking, Whitecloud said. Among the items the DCA staff donated was a crockpot, a cookbook, and some casseroles they made and froze. "We want them to have home-cooked meals," she said. Three teachers donated movie tickets for the children – intended to give the grandfather some time to relax. "We tried to give the kids things that would help him," Whitecloud said.
A grandmother and three children ages 10 to 15 years old; one of them is a DCA student. Money was raised to buy presents for each of the children and purchase a $99 certificate for a complete Christmas dinner from Raley's. On Christmas Eve, the family can go to the store to pick up turkey, dressing, mashed potatoes and other traditional items – all pre-cooked and ready to warm up the next day.
A 16-year-old DCA student who lives in a long-term motel in Modesto with her disabled parents. The teen takes three buses to get to the Denair campus once a week and also uses public transportation to get to and from her job at In-N-Out Burger. The family only has a microwave to cook, Whitecloud said, so they will be given an electric fry pan and toaster oven. The girl wanted nothing for herself and only blanket for her mother. "She even came to me and asked if she could help the family of eight (the grandfather and children," Whitecloud said. Baker and Whitecloud intend to give the 16-year-old two jars of change they have been collecting for months, inspired by the book "Christmas Jars" by Jason F. Wright.
A year ago, Whitecloud quietly gave a Christmas jar to a student of hers from Delhi, who used the money to buy a nursing textbook. She's now studying nursing at Modesto Junior College, Whitecloud said.
Allen realizes that many other companies and groups do extraordinary things to help the less fortunate during the holidays. Still, she beams when talking about her staff and the pride she feels in them. "I think it shows that our school cares and sends a message to our students and their families that somebody thought of them."
Whitecloud has worked in a variety of settings during her career – from state prisons to other schools – and said she's "never found a nicer staff."
"To do this job, I have to understand where the kids are coming from and have empathy," she said. "You can't tell them to pull up their bootstraps when they don't have boots."