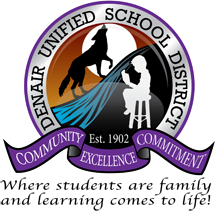 Submitted by Denair Unified School District
The existing boundaries for the Denair Unified School District will remain intact, a county committee decided Wednesday night to loud applause by staff, students and community members.
The 10-member panel voted unanimously to deny a petition by a Turlock housing developer who sought to move land that has been in the Denair district for decades to the Turlock Unified School District.
The decision has major financial implications for Denair, which stands to collect more than $1 million in developer fees when the homes are built and hundreds of thousands of dollars more in annual state funding based on projected student attendance from children living in them.
"We're ecstatic. It's wonderful news for our community," said Denair Superintendent Aaron Rosander.
There was a strongly pro-Denair sentiment at Wednesday's meeting of the Stanislaus County Committee on School District Reorganization. Nearly 20 people spoke during the hour-long public comment period, all but two of them in favor of keeping 92 acres at the northwest corner of Tuolumne and Waring in the Denair district.
Despite the emotion at Wednesday's meeting and during more than 3½ hours of public testimony in October, the end was anticlimactic. The committee members swiftly rejected developer Ron Katakis' petition without comment, leaving it to attorney Chet Quaide to explain their reasoning.
The State Education Code requires nine conditions be met for territory to be transferred from one district to another. Quaide said the petition failed on three grounds:
Denair has 1,293 students; Turlock has more than 14,000. Districts with less than 1,501 students are protected by the guidelines governing boundary changes.
Community identity. Katakis' partner, Chris Hawke, told the committee Wednesday night that people in the new neighborhood were likely to identify more with Turlock than Denair. But Quaide echoed many in the pro-Denair audience when he said "geography matters." Denair schools are a half-mile from the proposed development; the nearest Turlock school is two miles away. Quaide also called Denair High School the "social center" of the community.
Property values. The state expressly forbids boundaries to be changed because of the belief that homes will be worth more in one district than another. Many of the audience members spoke to that issue Wednesday night, and Quaide cited a report from a local real estate expert suggesting the future homes would be worth $5 to $7 per square foot more in the Turlock district than Denair. That could raise their prices $10,000 to $12,000.
At stake was more than $1 million in onetime development fees, plus an estimated $750,000 or more per year in state funding based on student attendance. Rosander and others talked about the impact that money could have on Denair, which narrowly escaped state takeover three years ago because of financial difficulties. Pay cuts for all employees still are in place. And while the budget still is "fragile," Rosander said Denair is well on its way to fiscal stability.
Hawke and Bob Weaver, a member of the Turlock school board, both suggested that Denair officials were looking at the $1 million in developer fees to restore salaries and add programs. That assertion was flatly rejected by Denair's chief business officer.
Linda Covello said the developer fees would help pay off construction bonds used to build facilities like the Coyote Center, where Wednesday's meeting was held. She said the additional average daily attendance money, or ADA, would go toward operating expenses that include salaries.
Denair's annual budget is about $9 million. Turlock's is about $136 million.
It's not clear when construction may begin on the 278 new homes. Rosander expects the developers to appeal to the State Board of Education, which could uphold or overturn the decision.