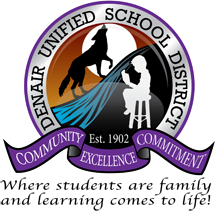 Submitted by Denair Unified School District
The first day of classes went off without a hitch at Denair Unified's four campuses Thursday. "Phenomenal" and "great" were among the words excited principals used to describe what happened.
And then the day got even better.
Denair trustees learned Thursday night that enrollment – which has been declining for more than five years – is up dramatically from last year and, most importantly, is significantly higher than what was planned for in the 2016-17 budget.
At Denair High School, which has seen the sharpest declines, there were 279 students Thursday. That's up 35 students from the budget and 10 more than last year.
At Denair Middle School, there were 22 more students than the budget anticipated. The same was true at Denair Elementary Charter Academy, which has been in growth mode the past two years … and still had 27 more students than were budgeted.
The news also was positive at Denair Charter Academy, which had 225 home-school and independent study students enrolled Thursday. It typically adds students throughout the year and likely will end up with more than 300 later this fall.
In all, Denair had 1,306 students on its campuses Thursday, well above the budget forecast of 1,249.
The mood was buoyant in the board room. After three years of salary cuts and downsizing directly related to declining enrollment, Thursday was the most encouraging sign yet that the district has turned the corner. With the state providing about $8,000 in funding per student, having 84 more than expected is a nice "problem" to have.
"We actually saw enrollment coming in over the summer. It was gradual, but every couple of days it was getting better," said Linda Covello, the district's chief business officer. "Today was amazing."
She cautioned, however, that the critical time to measure enrollment comes in October, when the state locks in numbers for the year.
Many of those new students are freshmen at the high school. While the budget anticipated 56 first-year students, there were 72 on Thursday. There also were a number of new sophomores who came home to Denair after spending their freshman years at other schools.
"We have all the students scheduled, in classes and we're ready to rock and roll," said first-year Principal Kara Backman.
At Backman's request, trustees approved a scheduling change intended to help this year's freshman class. Added was an advisory course intended to better prepare students for the rigors of high school, teach them how to study and inspire them to begin thinking about college and even career plans. Half the freshmen will take it the first semester, while the others take a health class. They will flip-flop in the second semester. The advisory course replaces a computer class previously offered.