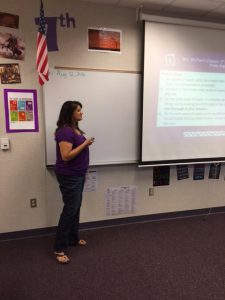 Submitted by Denair Unified School District
Name:  Gina Michael
Family: Husband, 2 sons, 5 dogs, 4 horses
School: Denair Middle School
Subject taught: World history in the Middle Ages for seventh-graders; U.S. history through industrialism & intro to civics for eighth-graders
Experience and education: Third year here at Denair Middle School. Five years at Hickman Charter School as seventh- and eighth-grade history teacher and education coordinator for families; administrative Assistant prior to that. B.A. in social science with a concentration in history and political science, Chapman University.
What most inspires you about teaching? I love it when I see students start to make connections about events happening currently in the world and realize that some conflicts and issues are hundreds, if not thousands, of years old.  I really believe I get to teach the best subject because I get to introduce students to the story of our history as a nation and also the stories and cultures of people around the world.
What are your biggest challenges as a teacher? My biggest challenge is trying to connect things that happened hundreds or thousands of years ago to the daily lives of a middle schooler in 2016. At ages 12 and 13, kids often don't see any relevance of historical events to their lives.  So many times, an understanding (and sometimes even love!) of history doesn't come until we're older and have been out in the world a little bit.  My goal is to spark some curiosity and lay a foundation so that when they get older they'll say, "Hey! I remember when we learned about that in Mrs. Michael's class!"
What is your favorite teaching tool or activity? I love using a variety of tools and techniques in the classroom.  I enjoy designing lessons in which the students use computers as an integral research tool and engage in self-directed learning activities so they are able to discover information on their own. I also enjoy adapting games like Jeopardy, Would You Rather, Guess Who? and others in order to have fun while we're learning.  That's one of the things I love about teaching – it can be different every day!
How has Common Core affected your classroom strategy? Fortunately for me, the history-related Common Core language arts standards are really heavy on critical thinking skills.  To accurately study historical events, critical thinking is a must, so it's been a natural progression to transition to more investigative lessons. Since many of the standards in the Common Core have to do with finding evidence in a text; determining author bias and/or perspective; and supporting an opinion or idea with evidence, it's been fun to see the students use these skills in order to discover different perspectives on famous historical events. I really enjoy seeing the students learn to back up their opinions and ideas with evidence in order to support their arguments. That's a skill they'll need to use for the rest of their lives.
What do you want your students to remember? First of all, I want my students to remember that I truly cared for them and the fun we had together as we learned about the world around us. As far as what I want them to remember from their subject area:  For my eighth-graders, I want them to remember the basics of how America came to be and the foundation that makes our nation unique – a government founded on the tenets that ALL men are created equal and have been endowed with certain unalienable rights. I hope they take this knowledge forward and eventually, in their adult lives, their rights and responsibilities as U.S. citizens will be of great value to them.  For my seventh-graders, I want them to remember this is a great big world with many cultures and civilizations. Gaining even a basic level of knowledge and understanding about other people's history, culture, and contributions to the world allows for greater understanding and less judgment, stereotyping and conflict.
How can parents support what you do? Parents and other adults in students' lives can help most by ensuring that learning continues outside the classroom.  Social studies is basically about learning about the world around us; how past events shaped our current world; and our role, rights and responsibilities as citizens of this world.  Continually talk to your students about the world around them. Celebrate and teach your families' culture and history; be open-minded and respectful towards others. Explain local political systems such as school boards, city government, county government, etc.  Read current events together — help students create an awareness of what's going on in the world around them and their eventual role in adult life as contributing citizens.
What will it take to improve academic success in DUSD schools? I believe making sure we are progressive and competitive with other schools in the area is essential for improved academic success in DUSD schools.  We should constantly be assessing what other schools in the area are doing and ensuring we are not only competitive, but ahead of the curve whenever possible.  Students who graduate from the DUSD system must be equipped with the skills and knowledge necessary to compete with other area graduates for college acceptance and/or employment opportunities.
What's next in your classroom? I'm SO excited to get back to having both seventh- and eighth-grade history sections again this year – I'm really looking forward to it!!  I'm really hoping to get to do more work this year with Google Drive in the classroom and plan on having students use computers even more than I have previously.  I am eager to work with Mrs. Beard as our new principal and I anticipate seeing how the implementation of PBIS affects our school culture.
What would surprise people about your job? That teachers are "on" around the clock.  I mean that in a completely positive way and we know that when we choose the profession. There's a misconception out there that teachers only work from 8 a.m. to 2:45 p.m. and only from the first day of school through the last day of school.  Every teacher I know is constantly thinking of their students, contemplating how to improve and introduce lessons, and learning and growing so as to better serve their students.  (Yes – even when school isn't in session!)  It is certainly not a job you leave when you close the door to go home, but the rewards are definitely worth all the hard work!
What do you do for fun? I love to spend time with my family – we love to camp and hike and spend time in the mountains as much as we can.  I also really enjoy reading and studying about local history and learning the folklore and legends of how life used to be in familiar areas.