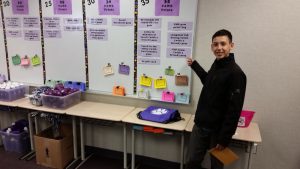 Submitted by Denair Unified School District
Most students appreciate it when teachers and others compliment their behavior, whether that's quietly completing an assignment in class, showing respect for others or even helping to clean up the campus by picking up litter at lunchtime.
But back up those positive verbal strokes with a tangible reward and watch those many of those same students ramp up their good behavior.
That's the thrust behind a new effort launched this year at two campuses in the Denair Unified School District. It's called Positive Behavioral Interventions and Supports, and it's intended to enhance student success and reduce discipline problems by proactively focusing schoolwide attention on what children are doing right.
Teachers and staff at Denair Middle School and Denair Elementary Charter Academy spent much of the 2015-16 school year identifying the standards that would be expected of every student on their campuses. Employees went through extensive training, in part to ensure consistency in what behaviors would be recognized and rewarded.
"Each school will be different because each builds their program from the ground up," said DMS Principal Kelly Beard.
At DMS, that evolved into what is called PAWS – an acronym that reflects youngsters who have a "positive" attitude, "act" responsibly, make "wise" decisions and "show respect." PAWS print coupons are handed out by all staff members when they see students displaying those traits. When students collect at least five PAWS prints, they can redeem them for a range of prizes of different values – pencils, notebooks, extensions on homework assignments, passes on PE warmup laps, lunch with teachers. The big reward – worth 35 PAWS prints — is a half-hour with a friend in the "VIP room" playing video games, ping pong, foosball, indoor basketball and other games.
Similarly at DECA, elementary students can earn Coyote Cash from staff by displaying the good behavior characteristics emphasized in daily reminders and quarterly assemblies, and portrayed on posters all over the campus. Beginning this week, they can spend their "cash" at the Coyote Cave.
Monday, Beard opened up the middle school's "PAWS Store" at lunch time, giving dozens of sixth-, seventh- and eighth-graders a chance to pick their prizes. They lined up three deep at times, excitedly counting how many PAWS prints they had collected.
"You'll see how some come in and don't spend," Beard said with a smile. "They're saving, saving, saving. Others want to redeem right away on the lower-priced items."
Five coupons earned either of the most popular choices – an exemption from a warmup lap in PE or a positive phone call about a student to his or her parents from any Denair staff member. Ten coupons could be exchanged for a binder, book or mechanical pencil.  Twenty-five was enough to get 5 points added to a test score, a weeklong extension on one homework assignment or a purple Denair football. Thirty was good for a lunch with a favorite staff member.
It takes 35 PAWS prints to earn time in the VIP room, though, something six students clearly had been thinking about. Seventh-graders Ashleigh Henderson, Adrian Zavala, Dylan Harper and Giselle Tadeo, and eighth-graders Zane Smith and Obed Gonzalez all ponied up for a half-hour of game time with a friend.
"I've been saving since school began," said Henderson.
Gonzalez said it's not hard for him to earn PAWS prints. He volunteers to pick up trash, is quiet and attentive in /dms/, and respectful of others. "I was always like that," he said with a smile. Last week, he received five coupons from a teacher for bringing a box of Kleenex to her class.
School officials say that it's still too soon to evaluate the long-term impact of PBIS, but they are encouraged by the early results.
"PBIS has created more of a 'team atmosphere' … as students know what is expected of them and all staff are working together diligently to create that cohesion which makes every school a success," said Donna Williams, a Spanish teacher at DECA and coordinator of the program there. "It's been a rewarding process to have PBIS at our school, and we look forward to a great year."
Beard is convinced the program will be a success.
"Does it work? Yes, yes, yes," she said. "Who doesn't love being acknowledged for the great things they do? That's the biggest incentive. The students like the material things, but they love the positive recognition."