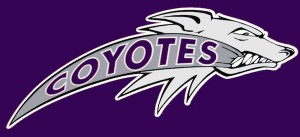 Submitted by Denair High School
Brendan Curnow's six touchdowns Friday night in a 50-0 demolition of Le Grand may or may not have set a school record. When you've been playing football since 1946 – as Denair High has – there is a lot of history to chronicle, though not all of it is written down. For sure, Curnow's performance is one of the best any Coyote has ever had.
And still that may not have been the most interesting takeaway from a game that Denair dominated from start to finish.
The fact is the Coyotes suited up just 13 players – and then had Jarred Carbajal go down with a dislocated left shoulder on the opening kickoff. It takes 11 players to field a team, meaning Denair played the rest of the game with only one reserve. There were many more coaches on the sideline than extra players.
"Every time we had a hard hit, I kind of freaked out until everyone got up," admitted head coach Anthony Armas.
He said his coaching staff had 30 seconds before the first offensive series to "teach" Justin Gomes how to play tight end to replace Carbajal, who already was subbing for the injured Dylan Mann.
Low on bodies, the Coyotes nonetheless imposed their will on Le Grand, racing to a 26-0 halftime lead behind running backs Curnow, Justin Steeley and Chase Pritt, who shredded the beleaguered Bulldogs' defense.
Steeley opened the onslaught with a 74-yard run – the first of eight touchdowns the Coyotes would score. Curnow took over from there. The senior back scored on runs of 25, 53, 35, 41 and 25 yards again, and then took a screen pass from Kyle Prock 80 yards for another TD to cap a memorable night.
Not that Curnow had much time during the game to enjoy any of his exploits.
He and his teammates rarely had a chance to catch their collective breaths. Because of their limited numbers, everyone plays offense, defense and special teams. "No rest for the weary" should be Denair's team slogan. Not only that, celebrations are carefully calibrated.
"Everyone has to preserve energy, so we don't get too excited during games," admitted Armas.
There was no better example than goal-line stand the Coyotes executed. With Le Grand just 5 yards from the end zone, Denair's defense stiffened and stopped the Bulldogs four times.
"The kids started running off the field after we held them," said Armas, "and then they realized no one was coming on the field to replace them."
Two plays later, Pritt ripped off a 95-yard TD run to punctuate Denair's dominance. Because the score was so lopsided, there was a running clock most of the second half.
The Coyotes evened their Southern League record at 1-1 while winning for the third times in five games overall. More importantly, they impressed their coach with their fortitude.
"We played really well. We did what we wanted to do, which was run the ball," Armas said. "We started with 13 players and finished with 12. We played most of the game with 12 guys and still shut them out."
Though Le Grand (0-2, 0-5) isn't as formidable as it has been, the victory still was significant for Denair.
"Our kids were pretty excited because a lot of them have been playing Le Grand since youth leagues and they've lost a few times. It was exciting to beat them," Armas said.
Junior varsity game: Denair won 40-19. It is 3-0 overall and 2-0 in the Southern League.
This week: Denair hosts Ripon Christian (1-1, 2-3), which defeated Waterford 30-13 last week. Armas hopes to have at least 13 players ready to go. "We'll try to get through this week and see where we go from there," he said when asked if promoting any JV players has been considered.