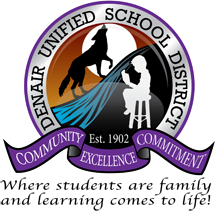 Submitted by Denair Unified School District
The road to financial recovery took a satisfying turn at Thursday night's special meeting of the Denair Unified School District board. Trustees approved a 2.37% bonus for all teachers who were on staff in 2015-16, the first step toward restoring painful salary cuts enacted three years ago.
The one-time payment matches bonuses given to classified staff earlier this year.
Thursday's unanimous decision affects the 65 teachers and school counselors who worked in the district last year – including those who retired or took jobs in other districts this year. The bonuses will be distributed this month and will cost the district $110,861 – money board members and Superintendent Aaron Rosander were delighted to share.
"We owe a big debt of gratitude to all our employees," Rosander said. "They've all been working hard to reposition and recast our district in our community. And it's working. Now we're gaining more people because our programs are powerful. And I think the best is yet to come. You can see that we've turned the corner."
When Rosander arrived in February 2014, the district and its employees were reeling from a one-two financial punch of declining enrollment and reduced state funding. Salaries for classified staff were slashed 12%; pay for teachers and administrators was cut 8%. Some employees were laid off.
Enrollment, which peaked at about 1,600 students in 2008, had been steadily eroding and bottomed out at 1,294 children in 2014-15.
"Declining enrollment will bring you to your knees. It will choke you," Rosander said Thursday night. "The budget gets tighter and tighter. That was the piece that was really vexing to our district."
Rosander and Chief Business Officer Linda Covello initiated a financial recovery program that maximized the use of so-called "restricted" funds to pay for people, programs and equipment while reducing the burden on the general fund. The district's food program was revamped, turning a $100,000 drain on the budget into a money-maker. Rosander said "powerful interventions" lowered how many students were assigned to special education programs that are required by the state but not fully funded.
Most importantly, Rosander explained, the district increased enrollment. In 2015-16, it combined its two elementary campuses into Denair Elementary Charter Academy and introduced a dual immersion English/Spanish program for kindergartners. The new charter attracted $750,000 in one-time state funding – and the dual immersion program was so popular that two kindergarten classes were needed.  This year, there are two classes each at kindergarten and first grade. As those children advance, additional classes will be added each year through fifth grade.
"The dual immersion program is bringing students and teachers at a rapid rate," Rosander said. "It's a self-fulfilling program. That brings in money."
Growth at the elementary level, in particular, has been critical to the district's financial recovery. As of Thursday, there were 1,316 students across Denair's four campuses. That's a key number. Additional salary restoration for teachers, Rosander explained, is tied directly to maintaining and increasing enrollment.
For instance, once the current enrollment numbers are locked in and accepted by the state later this month, trustees have said they will consider permanent salary restorations for 71 teachers and counselors represented by the Denair Unified Teachers Association. Under the sliding scale presented Thursday night, enrollment between 1,309 and 1,319 could trigger raises up to 4% that could go into effect as soon as January.
"We have a commitment to all our employees – classified and certificated – to restore as fast as we can," Rosander said. "I think Denair is a great success story. … We are going in the right direction."