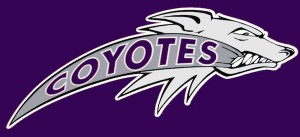 Submitted by Denair High School
This year's Denair football team is unconventional in many ways – in its toughness despite often being physically outmatched, in its versatility because there are so few players and in its ability to make a big play that shifts the momentum in its favor.
All those characteristics were in evidence in the Coyotes' 32-0 Southern League victory over Ripon Christian on Friday night at Jack Lytton Stadium.
Denair posted its second straight shutout despite never once forcing the Knights to punt. Instead, the Coyotes' opportunistic, bend-but-don't-break defense took the ball away time and again – intercepting an incredible seven passes while also recovering two fumbles.
Ripon Christian's turnovers allowed the Coyotes to turn a taut 6-0 game at halftime into a blowout by early in the fourth quarter. Denair (2-1 in the SL, 4-2 overall) stretched its scoreless streak on defense to nine quarters. It hasn't given up a point since the third quarter against Gustine on Sept. 23.
"We thought about the shutout during the game," acknowledged Denair coach Anthony Armas. "It's a big deal. When the game was over, we thought, 'Holy cow, we shut them out again.' "
Three of the Coyotes' seven interceptions were made by do-it-all senior cornerback Brendan Curnow, who returned his third pick 21 yards for a fourth-quarter touchdown that capped the scoring. As the fullback on offense, he also ran for 124 yards on 20 carries.
Curnow's latest heroics were nothing new. In the previous game – a 50-0 demolition of Le Grand – he scored six TDs. For the season, he now has 13 touchdowns in six games.
"He's one of those kids who doesn't make the same mistake twice," Armas complimented. "He runs the ball really hard and he's very physical on defense. Mentally, he's a smart kid. I think that this year his body caught up with his mental acuity. He's a little taller, a little thicker."
One of the critical sequences against Ripon Christian (1-2, 2-4) came to start the second half. Denair committed its only turnover of the night, fumbling the kickoff and setting up the Knights deep in Denair territory. But the Coyotes' defense stiffened and stopped R.C. on four plays inside the 10-yard line.
Buoyed by the goal-line stand, Denair's offense then marched 95 yards, with Justin Steeley capping the drive with a 13-yard run, the first of his two touchdowns. Steeley finished with 100 yards on the ground and now has scored eight times.
"It just seemed like whenever we needed a big play, we got it," Armas said. "We got super confident in our pass defense. Our kids made some big plays. We did a good job of stopping the run."
A week earlier, Denair suited up just 13 players and had one injured on the first play of the game, leaving it with only one reserve. Against Ripon Christian, the Coyotes started and finished with 14 players. Armas joked that determining who to rest at any given time was "complicated."
Causing nine turnovers makes any coach's job easier, though, as Armas well knows.
"I think it was our best game of the year," he said. "We just executed the way we should be executing."
Junior varsity game: Denair 29, Ripon Christian 8. The Coyotes are 4-0 overall and 3-0 in league play.
This week: Denair will go to Newman to play Orestimba (3-0, 5-1), the defending league champion. "I still think they're the team to beat," Armas said. The Warriors are tied with Delhi (3-0, 6-0) for first place. Denair hosts Delhi on homecoming Oct. 21.