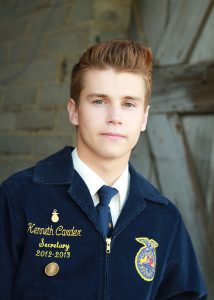 Submitted by Denair Unified School District
Ken Carder will join an elite group of high-achieving ag students at this week's FFA national convention in Indianapolis.
Carder, a 2015 Denair High graduate, will receive the American FFA degree, which is awarded to only about 1% of students nationally. According to the FFA website, only those members "who have demonstrated the highest level of commitment to FFA and made significant accomplishments in their supervised agricultural experiences" earn the award.
Carder, 19, has been an FFA member for six years and represented Denair many times at the Stanislaus County Fair. He has shown cows, pigs, chickens and goats. In 2012, his Yorkshire pig was named grand champion.
"I'm been raising pigs the longest, so they're my favorite, but I also like dairy cattle because they're different to control," he said.
There are nearly 630,000 FFA members across the country. Of that group, about 4,500 are being honored at a ceremony Saturday morning with American FFA degrees. Carder is one of about 350 recipients from California and the first from Denair High in six years.
Carder now attends Modesto Junior College while working at the Taylor Vet Clinic in Turlock, helping with small animals and occasionally horses. His goal is to transfer to Chico State, Cal Poly, Fresno State or possibly Kansas State, majoring in ag business.
Carder's stepmother, Michelle Bettencourt, said he promised her a few years he would achieve a higher FFA rank than she did as a student at Downey High in Modesto. Bettencourt got as high as the state level during her FFA career.
"He said he was going to beat me and he did," said Bettencourt, who will accompany her husband and Carder to Indiana this week.
Carder said it's the friendships that he will miss most as his FFA ends after this weekend's ceremony.
"I mainly just focus on the times I've spent with my friends at competitions or meetings," he said when asked about a favorite memory. "I look back and know I couldn't have done it without their support. They kept me sane."