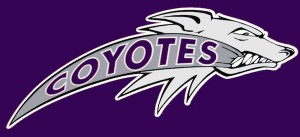 Submitted by Denair High School
Back-to-back shutouts despite a paper thin roster had made the Denair High football team the feel-good story of the season heading into last week. "The Mighty 14," some media outlets called them, paying special tribute to the number of players. USA Today featured them. So did ABC TV's station in Sacramento.
And then the reality of having so few players struck in Friday's showdown with defending Southern League champion Orestimba.
When quarterback Kyle Prock wrenched his knee while playing defense in the first quarter, the Coyotes' lack of depth was exposed. The domino effect of not having Prock able to run the offense left Denair with few options. The result was a not-too-surprising 35-8 loss.
After Prock's injury, fullback Brendan Curnow took over under center. He played a little quarterback last year, but hasn't practiced there much this season.
"Kyle getting hurt changed our offense," Coach Anthony Armas said. "We took one of our better running backs and had to move him, which affected other positions. We didn't throw the ball well and we had some trouble with handoffs. It's no one's fault. It happens."
With Prock's availability to play this week against unbeaten Delhi uncertain, Armas evaluated his quarterback options during Monday's practice. Curnow as well as Blake Davis and Dylan Mann took turns.
"Kyle didn't suit up today. We'll just take it day by day and see how it goes," said Armas when asked who might start Friday if Prock can't play.
The contest against Orestimba (4-0, 6-1) always was going to be a challenge for Denair (2-2, 4-3). Losing any player, not just Prock, made the task that much more difficult. The Warriors are one of the best teams the Coyotes will face this season.
"We're not going to let it affect us," Armas said. "We know what happened and why. We've got to get ready for Delhi now."
And as far as all the media attention associated with having a small roster?
"I think it was good for the kids. It was really cool experience to get national exposure," Armas said. "We had ABC 10 down there Friday night. They called as we got on the bus. Some of our players did Facetime. I was happy for the kids."
Junior varsity game: Denair won 32-28. The first-place Coyotes are 5-0 overall and 4-0 in league play.
This week: As if hosting first-place Delhi (4-0, 7-0) wasn't enough, it's also homecoming week. A rally and parade are scheduled during the day Friday before the game. Armas said homecoming always is fun for the players and others on campus, but Delhi is motivation enough. "Just being Delhi, it's a big deal," he said. "Their kids and ours have developed a rivalry. We respect them, but we don't fear them. We don't need to hype it up or get overexcited." Delhi is coming off a 57-7 victory over Le Grand. "They're a good team," Armas assessed. "They run the ball well and do a lot of misdirection stuff. Their defense is pretty good."