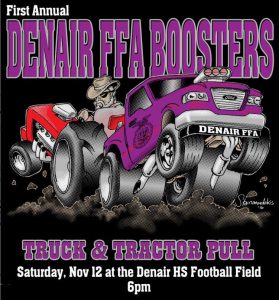 Submitted by Denair High School
It's loud. It's fun. And, for the first time, tractor pulling is coming to Denair.
The Denair High FFA Booster Club is organizing the event, which will start at 6 p.m. Nov. 12 at Jack Lytton Stadium. Tickets are $8 in advance or $10 at the door, and can be purchased from any FFA student.
As of Friday, more than 500 tickets already had been sold. Given the long-range weather forecast for a pleasant fall night, odds are good that well more than 1,000 people will be there.
The crowd will be treated to a fun event put on by the Valley Tractor Pullers Association, which has more than 150 members. Some of them are from the Denair area and have never had a chance before to compete on their "home turf." The VTPA stages events across the region, including at the Stanislaus County Fairgrounds in Turlock.
Tractor pulls involve multiple classes of vehicles – from antique tractors to modified, high-horsepower versions to souped up 4×4 pickups. Each tractor or truck is hooked up to a weighted sled. The farther the sled is pulled, the more the weight moves toward the front – making it more difficult to pull.
Competitors are scored on how far they can pull the sled.
In the Denair event, the pulling will be done on the south side of the track at the stadium. An announcer will rev up the crowd and introduce each participant. The show is expected to last up to three hours.
"It's very family oriented," said Ray Prock Jr., an FFA Booster Club member and also a trustee on the Denair Unified School Board.
Organizers hope to raise as much as $20,000. That money will go to support FFA programs at Denair High and pay for things like entrance fees for students at the county fair or to attend conferences.
For more on the Denair event, go to http://www.vtpapullers.org/Denair%20FFA.htm