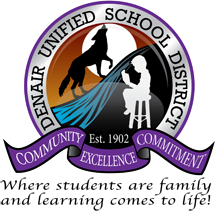 Submitted by Denair Unified School District
Another piece of the salary restoration puzzle was put into place by Denair Unified School District on Thursday night when they unanimously approved 2.2% pay increases for 13 teachers at Denair Charter Academy.
The instructors at the campus serve home-school students and parents in grades kindergarten through eighth as well as teens enrolled in the independent study high school program.
Unlike teachers at the district's other campuses, they are paid hourly and are not covered by a union contract. When the district faced financial crisis in 2013, their pay was reduced 3.5%. Thursday's board action restores their wage in the same proportion as already has occurred this year for union-covered teachers, as well as non-teaching classified staff and administrators.
Also on Thursday, the board:
Elected Trustee Kathi Dunham-Filson as board president for 2017 and Trustee Ray Prock Jr. as clerk.
Approved the addition of two new courses at DCA: the history of Mexico and introduction to culinary arts. Matthew Groom will teach the first course; Barry Cole will lead the second.
Heard a report from Lucy Zamora, principal at Denair Elementary Charter Academy, and four of her instructors who recently attended a conference on dual immersion language programs in New Mexico.
Cheered as Denair High School Principal Kara Backman reported that more than $30,000 was raised for the campus' FFA programs and students from the first-ever tractor pull in November. More than 1,100 people attended the event at Jack Lytton Stadium.
Heard a presentation from Mike Curry of Johnson Farms, asking the district to join other public agencies and residents in opposing the State Water Resources Control Board's plan to increase flows in the Tuolumne, Stanislaus and Merced rivers.