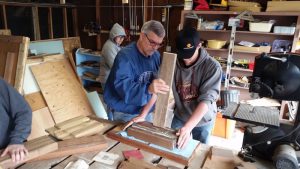 Submitted by Denair Charter Academy
It doesn't matter that most of Barry Cole's wood shop students came to his class this fall not knowing the difference between a band saw and a table saw or had never operated a router or drill press before. Cole's patient instruction and infectious enthusiasm soon removed any doubt.
The brand new cutting boards, footstools and even a dog house made of pine and oak and poplar are testament to the curiosity and ingenuity of Cole's Denair Charter Academy students. They bring him a picture of a potential project and he shows them how to make it. Along the way, the teens build more than a simple pencil holder. They gain confidence.
"This is about envisioning a project and developing the skills to complete it. It's a feeling of accomplishment," explained Cole. "It's always a different kid, several times a day."
Cole is a longtime teacher in the Denair district who moved to DCA's independent study program last year. He coordinates the science curriculum across many grade levels, and also teaches a landscaping class in addition to his woodworking elective.
Cole's grandfather was a carpenter, specializing in garage doors. As a young boy, Cole followed his grandfather around, learning the proper use of tools and enjoying the satisfaction of completing a project.
"I love the smell of the wood and I love making things, especially from repurposed wood," he said.
It didn't take much for Cole to convince first-year DCA Principal Brian LaFountain that a wood shop class would be a fun addition to campus.
"We started with 10 kids in one class on Monday and now we have 20 or so. We had to add another class on Thursdays," LaFountain said.
Cole made calls, sent letters and beat the bushes for scrap lumber. Denair Lumber has been a generous donor as have local farmers and others in the Denair community. Some of the tools came from Denair Middle School, where Cole had used them as part of his science instruction. Others were purchased using a $5,000 budget.
A long, open-air shed that used to house a couple of the district's vans and golf carts became the shop. One of the first projects for this year's students was to build cubby holes to organize the tools.
The whirr of saws and sanders provides the backdrop as Cole moves quickly between students in safety goggles, giving them hands-on instruction and loads of encouragement.
"I wouldn't have known how to use any of these tools two months ago," admitted senior Patience Yarbrough, one of two girls in the class.
"Yeah, she was afraid of using the saw," Cole said with a chuckle as he admired Yarbrough's three-piece, interlocking oak and poplar cutting board.
Across the room, senior Adrian Gutierrez and freshman Isaac Mendoza worked on a dog house made of ply board. All that remained was to attach some shingles (donated from Mendoza's father, who is a roofer), then add some trim and a coat of paint.
Gutierrez is not a novice when it comes to woodworking. His uncles have a carpentry business, which is why Cole assigned him the more complicated doghouse project.
"I like it because it's hands on," Gutierrez said of the class. "It's fun talking to the other kids. I also have Mr. Cole for biology. And I'm taking his landscaping class. I didn't think it would be fun, but it's pretty cool."
One of the most rewarding projects the class undertook this fall was to build a footstool for a first-grade special education student at Denair Elementary Charter Academy. The young boy has to use a special seat in class, but it leaves his feet dangling off the ground.
Amanda Silva, the district's special education coordinator, wondered if Cole's class could help. When she pitched the idea to the student's parents, his mother remembered that Cole was her sixth-grade teacher many years ago. She quickly gave her blessing. Next week, the youngster will have his footstool.
"That's how our community works," Silva said.
A bigger project combining Cole's woodshop and landscape classes involves turning a barren patch of grass into an outdoor seating area for DCA students. Students hope to build a pergola and benches, and surround them with drought-tolerant ornamental plants.
When the time comes to tackle the project, it's not likely Cole will lack for student volunteers. Though the teens only are required to spend an hour one day a week in the wood shop, many come early and stay late.
"This is a population of students who had no chance at these experiences," Cole said. "It's fun for them. And it's been a lot of fun for me. I love watching their minds work and figuring it out."