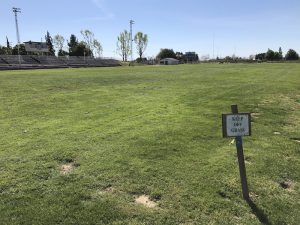 Submitted by Denair Unified School District
It's no longer safe to be a gopher on the Denair High football field. Though not completely gone – yet – the critters that had turned the sod at Jack Lytton Stadium into a pot-holed minefield are almost completely gone and their tunnels filled in. In their place is an emerald carpet of smooth, lush turf.
The massive improvement in field condition is due to hard work on two fronts: Eradication and restoration.
The first phase included an aggressive trapping project that killed more than 50 gophers by the end of February.
"There are two or three active gopher holes on the football field," said Facilities Director Brian Holloway. "I'm going to require therapy if I don't get them soon."
The second step happened in late February when the pros from West Coast Turf showed up.
Five dump trucks delivered about 125 tons of specially formulated sand, which was spread a quarter-inch deep across the turf. Small tractors loaded with a mixture of Kentucky blue grass and rye seed then worked their way from one end of the field to the other. Fertilizer was applied, followed by another quarter-inch of sand. The final step was to drag the field, helping to fill in the low spots to make for a more uniform surface.
The rains helped. So did all the recent sunshine. Holloway and his staff have kept everyone off the turf for now. The field is mowed twice a week.
"The grass is thicker and greener than when I started," said Holloway, who was hired in January 2016. "It's no longer difficult to run on."
Major headway also has been made on the varsity baseball softball diamonds.
On March 8, a few loads of a clay mixture were delivered to the baseball field to raise the level of the dirt areas to be even to the grass. The difference, Holloway explained, was due to years of removing vegetation.
"When you remove the weeds and grass, you inadvertently remove some soil," he said. "The soil needs to be replaced at some point."
Mike Miranda used small laser leveling equipment and a roller to compact the new soil. The softball field didn't need new soil, but also was laser-leveled. The JV fields had been worked on earlier by Denair's maintenance staff with help from some of the players.
The plan now, Holloway said, is to stay on top of the field maintenance all the time.
"If we keep the weeds out year round, we won't have to remove them in mass in the spring," he said. "Therefore, no soil will be removed. The weeds can be controlled with herbicides and frequent dragging as if we were preparing the field for a game."
Meanwhile, Holloway promises the gopher fight will continue.
"Once the fields are completely clear of gophers, we will start trapping them around the outside of the fields," he said. "Then we will battle them to our fence and property lines. In this agricultural environment, the battle will never end. We can never eliminate all the gophers. We can only hope to keep the population to a minimum."