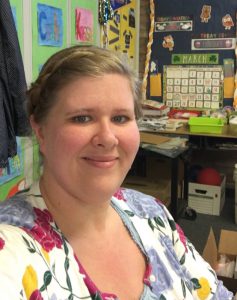 Submitted by Denair Elementary Charter Academy
Class Act – 10 questions for a Denair teacher
Name: Stephanie De Muro
Family: Husband Jason and son Casper
School: Denair Elementary Charter Academy
Subject taught: Special education for transitional kindergarten through fifth grade
Experience and education:  For my undergraduate degree, I attended Johnson & Wales University in Denver. I received my Master's degree at CSU Stanislaus and my Multiple Subject and Special Education Credentials at Brandman University.
Why most inspires you about teaching? My students. I love it when they finally grasp a concept and I see the light come on.  They keep me searching and learning about new ways to teach them.  I want them all to succeed.  My students inspire me to do the best I can for them.
What are your biggest challenges as a teacher? The biggest challenge for me as a special education teacher is planning for all of the different levels of students I work with.  I also have to be a scheduling genius to be able to juggle an SDC class and RS caseload.  I have to be very organized and on top of all my deadlines, which can be challenging at times.
What is your favorite teaching tool or activity? I love teaching math and bring in a lot of manipulatives and hands-on activities to bring real meaning to math.  Math can be very difficult for my students and showing them how it pertains to the real world is important for their learning.
How has Common Core affected your classroom strategy? My students are unique and because of the way they learn I was already using some of the concepts that Common Core is teaching.  I use a lot of hands-on activities and tools to help teach concepts.  I think the biggest challenge with Common Core has been the curriculum. It assumes my students have more foundational knowledge than they do and there is not a lot of review.  A concept is taught and mastery is expected; that is not the case with my students.  I do a lot of re-teaching and spiraling.
What do you want your students to remember? I want my students to remember that learning is fun and they can do anything if they try.
How can parents support what you do? Read with their children nightly, it helps and builds a love for learning.
What will it take to improve academic success in DUSD schools? Student and parental accountability. It is hard when you are giving it your all and there is no support in the home.
What's next in your classroom? We are starting to wrap up the year and are getting ready for open house.  My students have planted vegetables and we are tracking their growth and progress through the life cycle of a plant.
What would surprise people about your job? I don't just teach. I feed my students daily, whether it's a snack for recess or lunch. I listen to them when they are excited, happy, sad or upset. I help them with their homework after school.  I teach them about manners and how to be polite. I am there for them 10 months out of the year, and for many of my students I am there for them their entire elementary education. I have had some of my students since first grade and now they are going on to middle school.
What do you do for fun? I have a 1-year-old son who keeps me very busy. We love to go to the beach and the zoo.  I also love to bake; I went to culinary school before I decided to become a teacher.