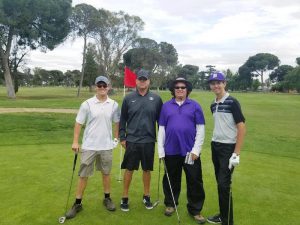 Submitted by Denair High School
Baby steps, capped off by an impressive and rewarding individual performance. That's one way to describe the first-ever Denair High golf team this spring.
The Coyotes have never fielded a golf squad before. But Athletic Director Darrin Allen and co-coaches R.J. Henderson and Greg Gaudio explored the possibilities, determined there was sufficient interest and decided to give it a go.
Three players – sophomores Drew Pritchard and Seth Martinez and senior Robert Henderson – comprised the fledgling team. A minimum of five players are required to compete in Southern League matches, but Denair overcame that by partnering with Waterford – another small team – to ensure enough players were available for opponents.
There were no team scores for Denair and Waterford, but their individual players earned points based on results to potentially qualify for playoff events.
Home matches were held at Oakdale Country Club, thanks to Waterford. The River Oaks Golf Course in Ceres provided practice facilities for the Coyotes.
"It was wonderful having Waterford as partners and I bet the two teams made some good friendships," Gaudio said.
The highlight of the season was Pritchard accumulating enough individual points to earn a spot in the Sac-Joaquin Section Division VI tournament on May 8 at Elkhorn Country Club in Stockton. He did himself and his school proud by firing an 86, good enough for a tie for sixth place in the field of 105 players, earning him a medal.
"Putting together a first-year program was a very unique and pleasant experience," said Henderson.