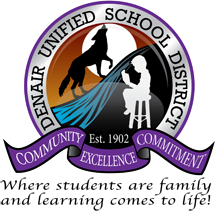 Submitted by Denair Unified School District
Where did the time go? For nearly 1,300 students in the Denair Unified School District, summer vacation ends Thursday with the resumption of classes.
School begins at 8 a.m. on all four campuses – Denair Elementary Charter Academy, Denair Middle School, Denair High School and Denair Charter Academy. At DECA, there is a modified schedule for students in kindergarten and transitional kindergarten; start times have been mailed to parents.
The first day of school is always an exciting time as students are paired with new teachers at a new grade level. Each campus has special activities planned to mark the new school year.
And next week, parents are invited to meet their child's teachers at a series of Back to School nights at DECA, DMS and DHS.
DECA: Tuesday, Aug. 15, 5:15 p.m.
DMS: Wednesday, Aug. 16, 6 p.m.
DHS: Thursday, Aug. 17, 6:30 p.m.
Superintendent Aaron Rosander welcomed the staff back earlier this week with a note. There also were two days of training for teachers and administrators.
"Whether you are new to the district or returning, you will sense a feeling of high energy and great anticipation when you step on your campus," Rosander wrote. "With many new and wonderful colleagues joining our incomparable veteran staff, this year promises to be an exceptional experience for everyone connected to Denair schools.
"Like all successful organizations, DUSD continues to better understand and celebrate our strengths, while continuously reinventing that which will better serve our customers. We exist in an era of choice and, as a result, we take nothing for granted, particularly our enthusiastic mission to make Denair schools a destination district of choice! I am proud and emboldened to say that we are well on our way."