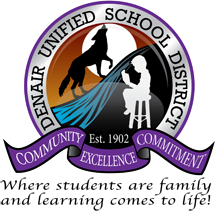 Submitted by Denair Unified School District
The two people elected next month to the Denair Unified School District Board of Trustees will serve an extra year, thanks to a decision by current board members Thursday night.
Trustees voted 4-0, with Sandi Dirkse absent, to move the election of trustees from November of odd years to November of even years. The move is consistent with the state's preference to consolidate local elections with statewide voting already scheduled for even years. There is ample data that shows voter turnout is much higher in even year, when people have more issues and candidates to consider.
Packaging elections also is more cost effective, Superintendent Aaron Rosander told trustees.
"There's been work to align elections to even years to save money, that's the impetus," he said. "I think as time goes, you'll see any election in an odd year go away. It's very expensive."
The upshot of Thursday's decision means that voters in the Denair district will select two candidates from a field of four on Nov. 7 and then wait until 2020 to vote again. The terms of those elected next month will run until 2022.
On the ballot are Crystal Sousa, Charlie Asbill, Tina Gresio and Regina "Reggie" Gomes. They are competing to replace Trustees Robert Hodges and Sandi Dirkse, who chose not to seek re-election.
Also affected are the three trustees whose terms would have ended in 2019 – Kathi Filson, Ray Prock Jr. and John Plett. They now will serve until 2020.
Board members and the audience also watched a presentation Thursday night from two members of Stanislaus County law enforcement. Probation officer Maribel Garcia and criminal investigator Louis Balentine shared information about the FOCUS (Focusing on Children Under Stress) program.
FOCUS is a way for law enforcement personnel to use email to notify school districts in Stanislaus County of violent or traumatic circumstances to which children have been exposed – a fire at their home, the death of a loved one, the arrest of someone close to them or other often emotional and frightening situations.
The county became the first in the state to start the program in 2016, modeling it after one already in existence in West Virginia.
All 26 school districts in the county – including Denair – are signed up to receive alerts. Since August 2016, there have been 136 referrals to school districts affecting 210 students, including one in Denair.
To protect the privacy of students and their families, school officials are not given extensive details about any incident. But it helps teachers and others to be aware of why a particular student may be having a difficult day and, if practical, delay tests or find other ways to give them comfort.
"Even slightest trauma can have a huge effect on a child's life" and cause "an earthquake of consequences," according to a video that was shown.
"FOCUS definitely works," said county schools Superintendent Tom Chagnon on the video. "It is a safety net for students and families to get them back to a normal routine as soon as possible."
Community members concerned that a child may have suffered a traumatic incident also can help. They can email information to focus@stanislaussheriff.com.
In other action, trustees:
Voted unanimously to accept $173,000 in federal E-Rate network funding, which will be applied to critical network upgrades across the district. Technology Director Mark Ranes said the district will add about $75,000 of set-aside state money to the project, which will support even more technology in classrooms across four campuses. "This will be dramatic," he said. A timeline for completion still must be determined, he said.
Applauded the new Denair High mission statement presented by Principal Kara Backman. "DHS is dedicated to preparing individuals in a small-school community where students learn through differentiation and strong relationships in order to achieve college, career and vocational success." Backman said the statement grew out of discussions with staff, parents and students.
Heard a report from Kelly Beard, principal at Denair Elementary Charter Academy, about a new play structure planned for the preschool. The structure will cost about $30,000, plus $10,000 for labor. The money was budgeted, Beard said. The new play area will be installed later this school year.
Were reminded that the first quarter ends today and that grades will be sent to parents soon.