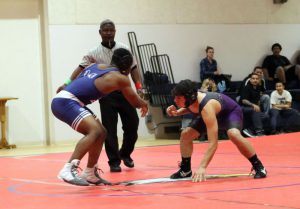 Submitted by Denair High School
Two Denair High wrestlers qualified for this week's Sac-Joaquin Division V meet.
Cody Martinez (126 pounds) and Quentin Parker (160) both finished third last Saturday at the Southern League Championships at Orestimba High in Newman.
Martinez, a freshman, was 4-3 during SL dual meets before finding his rhythm last weekend.
"Cody is quick with the way he maneuvers out of being gripped by his opponent," praised Denair coach Jorge Ruelas. "He uses his strength and endurance to establish his advantage and then executes either a pinning combination or moves that give him points if his opponent is not easily pinned."
Parker, a junior, also is a first-time qualifier for the Division V meet. He was just 2-5 during the dual meet season, but also displayed some of his best wrestling at the league meet.
"Quentin is methodological when he is on the mat," Ruelas said. "He looks for the appropriate opportunity to attack while using proper defensive techniques waiting for the right opportunity to pin his opponent."
The Division V tournament will be contested Friday and Saturday at Delhi High. The top four in each weight class advance for the Masters meet Feb. 23-24 in Stockton.