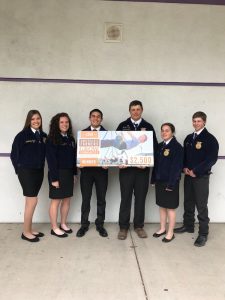 Submitted by Denair High School
The Denair High School FFA program recently was awarded a $2,500 grant from the Monsanto Fund on behalf of Denair dairyman and DUSD School Board Trustee Ray Prock Jr.
The money will be used to underwrite travel expenses to send Denair students to various FFA events and leadership conferences, said FFA adviser and ag teacher Nicole Hefner. There are more than 160 FFA members at Denair High.
"We would like to thank the Monsanto organization for helping fund our program to attend these different leadership conferences," she said. "They help students attain unique leadership skills … essential in the workplace. This couldn't be possible without the help of funding from Monsanto."
Prock and his family have operated a large dairy east of Denair for decades. His son and daughter both attend Denair High.
The purpose of the Grow Communities program is to partner with farmers to make a positive impact in farm communities across the country by supporting local nonprofit organizations. Since the program began in 2010, more than $29 million has been directed to organizations across rural America.
"Farmers play a pivotal role in rural communities, and through their commitment to Grow Communities program, we are able to provide the monetary support these nonprofit organizations need to make an impact," said Monsanto President Al Mitchell.
Learn more at www.Facebook.com/AmericasFarmers