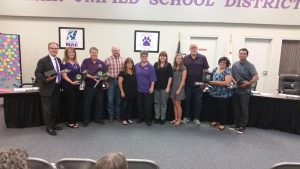 Submitted by Denair Unified School District
An account technician, the longtime director of technology, two popular maintenance workers and a special education assistant and have announced their retirements from the Denair Unified School District at the end of this school year. Combined, they have 128 years of service in schools.
Those retiring are:
Ana Rush, Account Technician
Mark Ranes, Director of Technology
Maria Gomes, Custodian
Genaro "Willie" Lugo, Utility Worker
Sue Patterson, Special Education Paraeducator
The five retirees were honored with gifts and testimonials May 10 at an emotional Board of Trustees meeting. There were smiles, hugs and more than a few tears – of gratitude and happy memories, and from close friends who won't be seen quite as frequently.
Also acknowledged and congratulated on a job well done was Superintendent Aaron Rosander, who is leaving after 4½ years and moving to the Bay Area to be closer to his elderly parents.
Ana Rush, 38 years in the district: Rush and her husband, Randy, are 1976 graduates of Denair High. So are both their children, something not at all uncommon in the close-knit community. She describes having four Coyote alumnus in the same family as being "very special."
Rush said it "has been a pleasure working" in the business office for more than three decades, but that she's excited about the chance to spend more time with her family.
"My plans are to do what I want when I want, to help with my six grandchildren when I'm needed and to wait for my husband to retire so we can travel throughout the United States," she said.
Among her favorite memories are the morning pots of coffee brewed by Ranes in the district office. "He used to make the best coffee," Rush recalled.
"The other wonderful experience was meeting and becoming friends for life with other parents by being involved with Sports Boosters and Sober Grad," she said.
Mark Ranes, 34 years in the district: Ranes spent the first 13 years of his Denair career teaching science to sixth-, seventh- and eighth-graders at Denair Middle School. But in the mid-1990s – when school districts could barely imagine the impact computers someday would have on education – he left the classroom to become the district's first and only technology director.
"The biggest accomplishment early on in the technology area was being the first district in Stanislaus County that had a networked computer in every classroom. In 1996-97, that was unheard of," Ranes said. "But overall, I think the biggest accomplishment of all is maintaining 20+ years of technology use in DUSD, where we stayed focused on the people using the technology, not the technology itself.
"Education is a people business. Empowering creative teachers with the ability to use technology as a tool, to open the minds of students, is what we do in the tech department."
His responsibilities brought Ranes in contact with every district department, so it's no surprise when he admits that his biggest adjustment will be making up for that daily interaction.
"Denair is my family," he said. "Even when I'm not at work, I'm around people I've met through my career in Denair. This district is blessed to have some of the kindest, hard-working people I've ever met. They know their mission and want to provide the best education possible for Denair's students. I will miss seeing these folks on a daily basis."
Until his wife, Brenda – a teacher at Denair Elementary Charter Academy– retires and they can do more traveling, Ranes expects to spend much time on his twin passions – home brewing and baking.
"I'll be able to brew on weekdays now!" he said with a smile. "I also want to master a couple areas in baking – sourdough bread and pies. Finally, I look forward to spending more time with our two Boston terriers. They can take me on walks."
Maria Gomes, 19 years in the district: Gomes is a familiar face across the district, working tirelessly in the background in support of students and staff.
She said one of her favorite memories is the day she found out she was hired.
"I recall being very nervous in my interview and remembering how important it was to me and then how excited I was when I was told that I got the job," she said. "I will miss the students, I will miss my colleagues, I will miss my job and all aspects of being an employee with Denair Unified School District. I am very thankful. It has been a blessing to be a part of the team."
As far as special retirement plans, Gomes intends to "do some traveling and spend lots of time with my four granddaughters. There will be lots of time spent with family."
Genaro "Willie" Lugo, 19 years in the district: Lugo's Denair career nearly was over before it started. He heard about the opening from his wife, came to the district apply and was told he was a day late. But he filled out the application anyway – without dating it – and emerged as the top candidate.
Lugo was a fixture on every campus for nearly two decades. He loved his routine: Monday and Tuesday on the elementary campus, Wednesday at the middle school, and Thursday and Friday at the high school.
He showed up promptly at or before 6 a.m. each day – "I was never late, only early" – with a smile on his face, ready to tackle the next project.
"My favorite thing was working with (former maintenance supervisor) Joel Sanders," Lugo said. "Just doing the job. Accomplishing tasks. He always worked along with us. He was amazing."
Lugo even doubled as the bus driver to and from athletic events for 15 or 16 years.
"The kids always called me 'Mr. Lugo,' " he said proudly. "I respected them and they showed me respect, just like a teacher."
The hardest part about retiring?
I'll miss the kids. They kept me young," Lugo said. "I'm going to miss my trees and my bushes. I planted many of them. Especially at the middle school. Those redwoods and sycamores; they must be 150 years old. I pruned them so many times, up and down. It was a lot of work."
In retirement, Lugo wants to "fix things" around his home in Turlock and spend more time with his wife and their two adult sons. He'd also like to expand his Jehovah's Witness territory.
Sue Patterson, 18 years in district: Patterson worked with special education students across many grade levels during her time in Denair. Her greatest pleasure, she said, was when "the lights come on" as students learn to read.
"My favorite accomplishment is when I discovered  a fifth-grade student who was reading at first-grade level," Patterson said. "I was given the opportunity to work with him an hour a day. Within three months, he gained three years in his reading level. He worked so hard and was so pleased with his accomplishment!  That felt good!"
She treasures the friendships with other staff members and the relationships she created with students, but looks forward to a new schedule filled with new priorities.
"I will enjoy traveling, kayaking, painting, gardening and hanging out with my chickens," she said. "I have three grand babies that will be seeing much more of their Grammy. I will also be volunteering at Faith Home Teen Challenge Ranch, where my husband works."