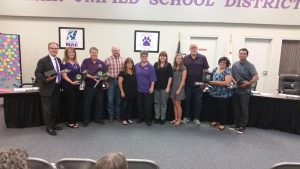 Submitted by Denair Unified School District
An account technician, the longtime director of technology, two popular maintenance workers and a special education assistant and have announced their retirements from the Denair Unified School District at the end of this school year. Combined, they have 128 years of service in schools.
Those retiring are:
Ana Rush, Account Technician
Mark Ranes, Director of Technology
Maria Gomes, Custodian
Genaro "Willie" Lugo, Utility Worker
Sue Patterson, Special Education Paraeducator
The five retirees were honored with gifts and testimonials May 10 at an emotional Board of Trustees meeting. There were smiles, hugs and more than a few tears – of gratitude and happy memories, and from close friends who won't be seen quite as frequently.
Also acknowledged and congratulated on a job well done was Superintendent Aaron Rosander, who is leaving after 4½ years and moving to the Bay Area to be closer to his elderly parents.
Ana Rush, 38 years in the district: Rush and her husband, Randy, are 1976 graduates of Denair High. So are both their children, something not at all uncommon in the close-knit community. She describes having four Coyote alumnus in the same family as being "very special."
Rush said it "has been a pleasure working" in the business office for more than three decades, but that she's excited about the chance to spend more time with her family.
"My plans are to do what I want when I want, to help with my six grandchildren when I'm needed and to wait for my husband to retire so we can travel throughout the United States," she said.
Among her favorite memories are the morning pots of coffee brewed by Ranes in the district office. "He used to make the best coffee," Rush recalled.
"The other wonderful experience was meeting and becoming friends for life with other parents by being involved with Sports Boosters and Sober Grad," she said.
Mark Ranes, 34 years in the district: Ranes spent the first 13 years of his Denair career teaching science to sixth-, seventh- and eighth-graders at Denair Middle School. But in the mid-1990s – when school districts could barely imagine the impact computers someday would have on education – he left the classroom to become the district's first and only technology director.
"The biggest accomplishment early on in the technology area was being the first district in Stanislaus County that had a networked computer in every classroom. In 1996-97, that was unheard of," Ranes said. "But overall, I think the biggest accomplishment of all is maintaining 20+ years of technology use in DUSD, where we stayed focused on the people using the technology, not the technology itself.
"Education is a people business. Empowering creative teachers with the ability to use technology as a tool, to open the minds of students, is what we do in the tech department."
His responsibilities brought Ranes in contact with every district department, so it's no surprise when he admits that his biggest adjustment will be making up for that daily interaction.
"Denair is my family," he said. "Even when I'm not at work, I'm around people I've met through my career in Denair. This district is blessed to have some of the kindest, hard-working people I've ever met. They know their mission and want to provide the best education possible for Denair's students. I will miss seeing these folks on a daily basis."
Until his wife, Brenda – a teacher at Denair Elementary Charter Academy– retires and they can do more traveling, Ranes expects to spend much time on his twin passions – home brewing and baking.
"I'll be able to brew on weekdays now!" he said with a smile. "I also want to master a couple areas in baking – sourdough bread and pies. Finally, I look forward to spending more time with our two Boston terriers. They can take me on walks." Continue reading "Denair Retirees Honored for Combined 128 years of Service" »