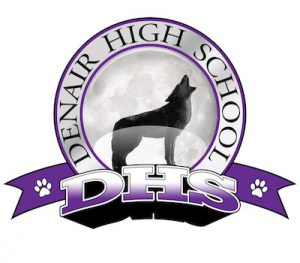 Submitted by Denair High School
Anthony Armas considers the 2017 football season a building block. Denair relied on mostly juniors and up to seven sophomores most of the year – giving up precious size and experience to virtually every opponent. The Coyotes' 2-8 record was disappointing, but not surprising, given the challenges.
And even as the season ended in November, the energy, excitement, and enthusiasm remained among the returning players. Many were eager to hit the weight room the very next Monday.
Friday night's home game will be the first test to see if the lessons learned last fall – and the hard work invested by players and Armas' coaching staff – will begin to pay dividends.
"Our expectations are high," admitted Armas, now in his fourth season on the sideline.
The first opponent will provide a stern measuring stick. Woodland Christian is coming off a 10-2 campaign that saw the Cardinals capture the Sacramento Metropolitan Athletic League championship and advance the Sac-Joaquin Section Division VII semifinals.
"They were a game away from playing for the Section title," Armas said. "They run a similar offense as us with a lot of motion and misdirection, and they've got some pretty decent-sized kids."
Once again, Denair will field a relatively young team. Armas expects to have no more than 10 seniors on a 25-player roster, though all of them got plenty of experience playing both ways last fall. He's also counting on an infusion of juniors – the sophomores who played on the varsity last year, plus the rest of their classmates who compiled a 4-4 junior varsity record.
Just as important, Armas does not expect to start the year with any sophomores on the varsity – a positive sign of increased depth.
"Our strength and conditioning have improved (since last year)," he said. "The kids have put on muscle mass. We've gotten bigger and stronger."
Leading the way is junior quarterback Elvis Silva, who will be joined in the backfield by senior running backs Steffin Winston and Hunter Musgrave and junior fullback Dylan Da Silva. Senior Drew Pritchard, who played quarterback last season, also is expected to rotate among the running backs.
The Coyotes again will run the Wing-T offense, which relies on motion and trying to get the defense looking in one direction, then sending a back with the ball in another. Confusing defenses allows Denair's linemen to use blocking leverage to make up for any size differences.
Armas said three juniors – center/middle linebacker Christian Obando, guard/defensive end Carlo Morales and tackle Derek Starkey – will be the anchors on both sides of the ball.  Senior defensive end Scott Badal also is expected to fortify the defense and pressure opposing quarterbacks.
Kickoff this week moves up to 7 p.m. at Don Lytton Stadium because Woodland Christian has a long bus ride home. The Cardinals don't have a JV team, so Denair's underclassmen will face the Pitman High freshman team at 5 p.m.
This slideshow requires JavaScript.