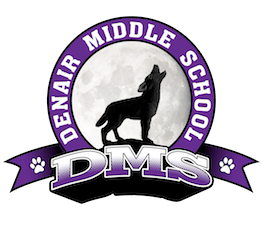 Submitted by Denair Middle School
A former student with a talent for art is brightening up one of the walls at the Denair Middle School office.
Libby Martinez, a 2017 graduate of Denair High, spent part of Thursday and Friday painting a howling young coyote with the words "Denair is home." The mural graces what is familiarly known as the "detention wall" outside the principal's office (it's the place where students wait).
The project is the brainchild of first-year Principal Amanda Silva, whose oldest son, Hector Obando, graduated with Martinez.
"I reached out … and asked if Libby would consider painting a mural on an empty wall, depicting school spirit. Libby jumped right on it and less than 24 hours later, she is sketching and painting," Silva said Thursday.
"I got a text from her Wednesday asking if I'd do this," Martinez recalled. "It never went through my head to say no. It was, 'How am I going to do this before I go back to San Francisco?' "
Martinez is an art major at San Francisco State University. She moves back into the dorms next Thursday; school begins Aug. 27.
She expects to finish the mural no later than Monday. Thursday, she set up a projector in an office across from the wall, allowing her to trace the coyote and words on the wall. She then applied the first coat of semi-gloss house paint. She's using two shades of purple and brown as well as black, white and gray.
Friday morning, she put on a second coat of purple on the letters.
"Hopefully, I'll be done Saturday," Martinez said. "If I have to do touchups, that will be Monday."
Painting is nothing new to Martinez, though she admits to never doing a mural before. The closest she's come is two 6-foot by 5-foot charcoal self-portraits she did last spring as a class project.
Martinez credits high school art teacher John Stavrianoudakis – Mr. Stav to everyone – for recognizing her passion for art and inspiring her to pursue it as a career. She hopes to eventually earn a master's degree and teach art at a university.
"I love Mr. Stav with my whole heart," she said. "He taught me everything I know. … He taught me to break things down into simple shapes — circles, rectangles, triangles. It helps you from getting super overwhelmed."
Stav, predictably, gives all the credit to his former student.
"Libby is a 'force!' " he said. "I'm flattered to hear I had a positive influence on Libby to guide her in her artistic path and journey, but the truth is, Libby would be successful in art in spite of me."
Stavrianoudakis said Martinez excelled at every assignment he threw at her.
"It was a great pleasure to see her grow in high school, and it is an even greater joy to see her continue this post DHS," he said. "At the end of last year, she dropped by to visit and gave me a print of a skeleton in a headdress she worked on in college.  I have it hanging in my room, and treasure it!  It is what teaching is all about!"
Silva said the entire Martinez family – parents Pam and Ron and their four children – "exemplify the purpose of our work in Denair: Building positive, lifelong relationships where students feel compelled and eager to give back to the community and school system.
"Libby's theme in sketching the mural is, 'Denair is Home.' For all of us that live, breathe, and bleed purple: Denair IS home!"