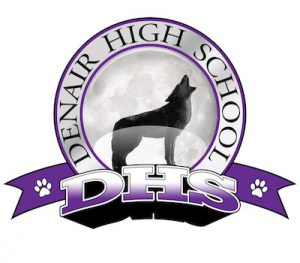 Submitted by Denair High School
DENAIR – The first four weeks of Denair's football season were marked by big plays on offense and an aggressive, swarming defense. The Coyotes averaged 44 points a game thanks to a potent running game featuring three elusive backs.
But Friday night against mighty Ripon Christian, it was the unbeaten Knights who made all the big plays in their 35-7 Southern League victory over Denair at Jack Lytton Stadium.
"They really good," praised Denair coach Anthony Armas. "Hands down, that's the best team we'll face all year."
Probably the game's key sequence occurred in the third quarter with Denair trailing 21-7, but driving for a possible touchdown that would have made it a one-score game. The Coyotes had the ball on the RC 10-yard-line, but were stopped when a fourth-down pass fell incomplete.
On the next play, Ripon Christian running back Michael Kamps (15 carries, 186 yards, 3 TDs) broke free for a long touchdown run.
Just that suddenly, the air was sucked out of the Denair sideline. What might have been a doable 21-14 deficit with all the momentum in front of a frenzied crowd with a quarter to play became a 28-7 RC advantage.
"We couldn't punch it in and then they had a 90-yard run," Armas said. "That was tough."
A similar sequence occurred near the end of the first half. Trailing 14-0, the Coyotes again drove deep into Knights territory. But Denair missed on a third-down pass attempt, then failed to convert a 33-yard field goal try.
"They had two or three big plays and our longest was about 30 yards," Armas said.
Running back Steffin Winston led Denair's offense with 101 yards on the ground. The Coyotes' only touchdown came in the third quarter on a 9-yard pass from Elvis Silva to Drew Pritchard.
And though Denair moved the ball throughout the game, RC's defense stiffened when the Coyotes threatened the end zone.
"They like to get after people," Armas said of RC. "They blitz a lot. They dare you to throw the ball quickly. We had some good drives, but we couldn't score like we've been doing."
The victory kept the Knights (5-0 overall, 2-0 Southern League) unbeaten in what is shaping up to be a five-way battle for not only the league title but also the coveted playoff spots for the new few teams.
RC is tied with Orestimba (4-1, 2-0) and Gustine (4-1, 2-0) for first place, with Denair (4-1, 1-1) and Waterford (4-1, 1-1) just a game behind.
Denair plays at Gustine this week while Ripon Christian hosts Orestimba. Depending on the results, the standings could even tighter by the end of Friday night.
"We all knew Ripon Christian was going to be good," Armas said. "It's a tough league. Really tough."
JV Game: Ripon Christian 39, Denair 0. The Coyotes fell to 0-3-1 overall and 0-2 in league play.
This week: Denair continues the Southern League gauntlet with a road game in Gustine. What will be the message this week in practice? "Regroup and move forward," Armas said. "Realistically, we're not going to go undefeated. We've got to bounce back." … Denair expects to again rely on running backs Winston, Dylan De Silva and Hunter Musgrave to carry the offensive lead. On defense, Armas said the Coyotes will have to be stout against the run. "They've got a good running back and some big linemen," he said of Gustine. … The Reds are coming off a 17-14 victory in Mariposa.