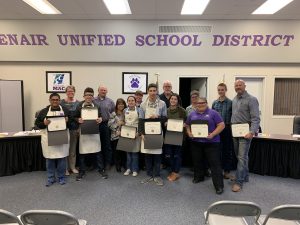 Submitted By Denair Unified School District
High school and middle school students in the Denair Unified School District have a new ally in their efforts to prepare for, apply at and help pay for college.
It's called the California College Guidance Initiative. It is the state's official college and career planning platform, which is free to all California educators, students and families.
Thursday, Denair trustees unanimously decided to make the district one of the first in Stanislaus County to enroll in the program.
CCGI is a nonprofit — funded in part by the state of California — that partners with school districts across the state to advance local college and career readiness goals. CCGI wants all high school seniors in California to graduate with clear postsecondary goals and a plan for how to achieve them.
Its website is packed full of useful tools that allows students, their parents and school advisers to access all kinds of college-related information and requirements, upload transcripts and college-prep test scores, search for universities and application forms, take career profile surveys, and learn more about financial aid.
Each student – beginning as early as sixth grade — creates a profile that includes his or her coursework, academic accomplishments and even extracurricular activities. Students who aspire to attend a University of California, California State University or even a community college can see exactly what it will take to potentially be accepted.
If a family moves or a student changes schools, the profile follows him or her anywhere in California.
"One of the things I like as a parent and a principal is there is a parent portal," said Denair High Principal Kara Backman. "It's the same information for students, parents, teachers and administrators."
Denair Superintendent Terry Metzger said another important CCGI feature is its ability to position students to enroll in the right classes as college freshmen. Many students end up in remedial courses they don't need or have to drop a class they're not prepared for.
"The transition will be better for them and they'll be better placed in classes," she said. "Colleges don't want to do assessments and students don't want to end up with a wasted first semester. This helps us better align all those components."
Metzger said district officials will meet with CCGI representatives in December in hopes of rolling out the program for all high school and middle school students after the first of the year.
Earlier in the meeting, Metzger quickly ran through a range of recent test results and student performance measurements. She also recapped some of the highlights of her first few months on the job and talked about some of her goals for the remainder of the school year.
The relevant test results included:
194 Denair students are classified as English learners. More than half – 53% — are achieving at the top two levels for oral (listening and speaking) and written (reading and writing) abilities, said Metzger, adding that more analysis is needed to determine why "our reading scores are lower than our writing scores for the same students."
Roughly half of Denair's fifth-, seventh- and ninth-graders met five out of the six healthy fitness zones requirements (aerobic capacity, body composition, abdominal strength, trunk extension strength, upper body strength and flexibility). Tests are taken in the spring.
The California smarter balanced assessment test, known as CAASPP, measures English and math proficiency. The results indicate Denair students need improvement in both areas, Metzger said. She intends to work with principals and teachers at all the campuses to ensure all students routinely exposed in class to the types of problems they see on the test. "The test is not our purpose; it's just a measure," Metzger said.
The new superintendent, who came to Denair in July from a large district in Santa Rosa, said she has spent much of her first few months building relationships among staff members and the community. Her strategy, she said, is to listen, learn, share and plan.
"My motto is, 'Everyone is on a journey you know nothing about. Be kind,' " she told trustees and the audience.
Among Metzger's goals are to improve student achievement, build a budget for 2019-20 that includes salary restoration for staff, find the right balance between centralized district control and autonomous campus decision-making, and even more thoroughly integrate technology into every classroom.
"I'm feeling really good about the work we've accomplished so far," she said.
In other action Thursday, trustees:
Approved a contract for $96,276 with BZ Construction of Ceres to install two portable classrooms on the Denair Elementary Charter Academy campus on Nov. 28. The cost will be paid with extra state money received and saved for one-time projects.
Added six minimum days to the Denair Middle School calendar. They are all Fridays – Dec. 7, Jan. 11, Feb. 1, March 1, April 5 and May 10. Students will be let out at 12:38 p.m. Teachers will use the extra time in the afternoon to analyze student data and plan instruction that will benefit all students through the further development of a responsive multi-tiered system of support.
Approved plans for the Class of 2019 to take their Senior Trip to Disneyland on May 10.