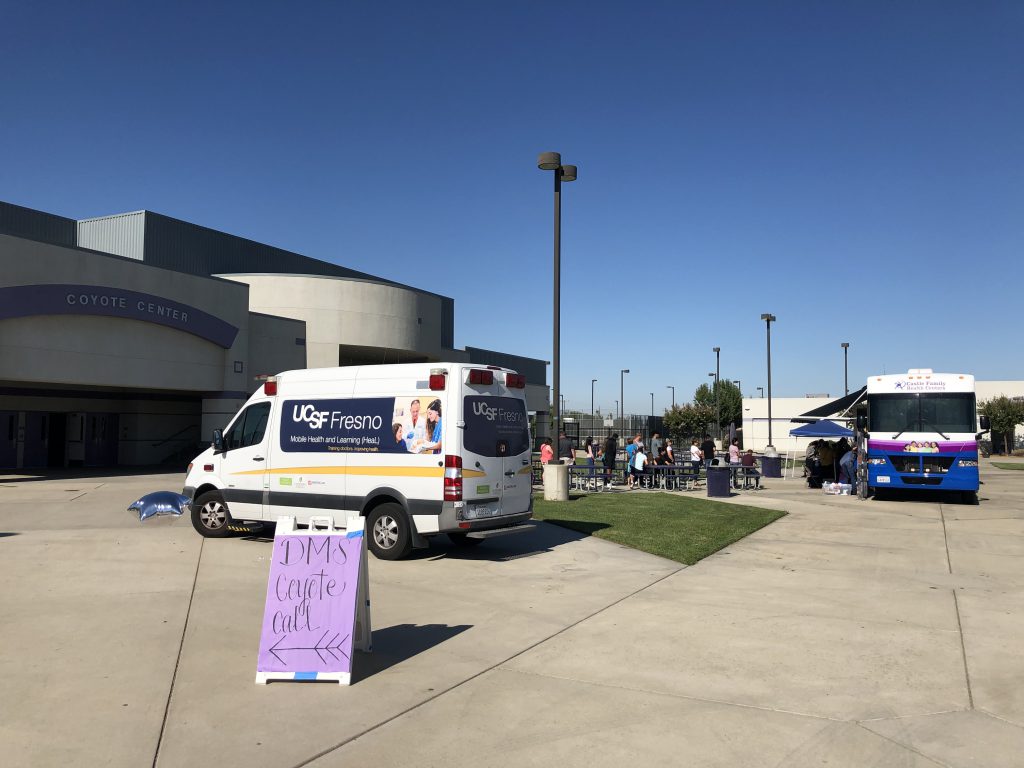 Submitted by Denair Unified School District
There already was a line of parents and students waiting when Ryan Dudley and his medical team from Castle Family Health Centers arrived at the Denair Middle School campus Wednesday morning.
By midday, the clinicians already had seen 40 students, with another 30 in line. By the time the clinic was scheduled to end at 3 p.m., it's possible nearly 100 students had received athletic physicals for fall sports or been given various vaccinations or booster shots.
All the treatment was free, courtesy of a partnership between the Denair Unified School District, Castle and Turlock-based Legacy Health Endowment, which picked up the cost.
It is the second free mobile medical clinic offered in the district since late May. About 70 students were seen at the first one and it appeared even more were treated Wednesday.
The fact that Wednesday's event overlapped with Coyote Call no doubt increased activity at the clinic. With exactly a week before classes resume Aug. 7, middle and high school students were on campus Wednesday to get their schedules and sign up for clubs.
"I was worried we wouldn't have enough kids. Clearly, there is a need in our district," said Denair Superintendent Terry Metzger.
"Not everyone could make it in May. That's why we're having it again — to catch people who missed the last one," said Dudley, a licensed vocational nurse with Castle.
He was part of a 10-member team that included a doctor affiliated with UC San Francisco's Fresno-based medical clinic, two medical assistants, a pediatrician intern, a student intern, an outreach coordinator and three volunteers.
They worked out of a specially equipped RV owned by Castle. Parents had to sign forms before students could receive shots. The medical team could access vaccination records online through the San Joaquin Healthy Futures Registry, based in Stockton.
Some middle and high school students needed meningitis or HPV9 (cancer prevention) shots, which are required. Younger children received booster shots.
Many students were given sports physicals – also mandatory for anyone participating in athletics.
"We want to discover any underlying conditions," Dudley explaining, referring to the physicals.
Castle offers clinics a few times a month at schools or even homeless shelters to make sure the underserved have access to quality medical care. "These kinds of events are important because it allows us to meet the community where they're at and provide services they need," Dudley said. "Today, we saw a lot of happy, healthy kids, which is what we want."